30
Sep
2007
by
Lisa Arneill
+
in
Adam Sandler
,
Camryn Manheim
,
Epidermolysis Bullosa
,
Joley Fisher
---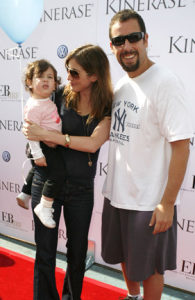 Many celebrities and their families attended CelEBration on the Pier to Benefit the EB Medical Research Foundation.
EBMRF is a volunteer nonprofit foundation dedicated to the support of medical research of Epidermolysis Bullosa (EB), its causes, the development of successful treatments, and ultimately, its cure. EB is a group of diseases characterized by blister formation after minor trauma to the skin. This family of disorders, most of which are inherited, range in severity from mild to the severely disabling and life-threatening diseases of the skin. This rare genetic disorder affects all ethnic and racial groups. Estimates indicate that as many as 100,000 Americans suffer from some form of EB.
This unbelievable disease is debilitating for your children because they can never ride a bike, skate, or participate in sports because the normal play of children causes chronic sores. Wounds may cover up to 75 percent of the child's body. Imagine a diet of only liquids or soft foods because blistering and scarring occur in the mouth and esophagus. Scarring also causes the fingers and toes to fuse, leaving deformities which severely limit function. Imagine a life tied to hospitals for wound treatment, blood transfusions, biopsies and surgeries
To learn more please visit their website ebkids.org
---
SOURCE
PHOTOCREDIT:Lacroix/WIREIMAGE
---