It's almost time! And that means you need to be prepared. Find out what you need to take (and what you shouldn't) to the hospital for delivery day and have your bags packed and ready to go.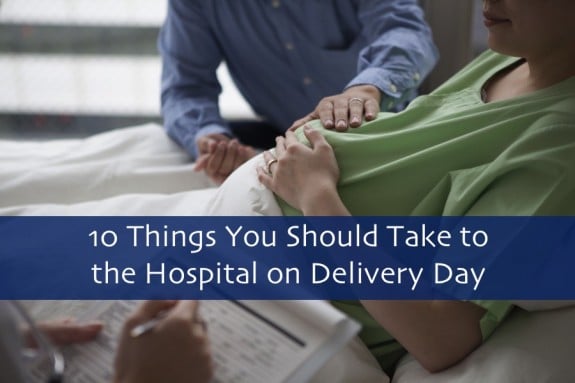 Packing for Yourself
You'd be surprised at how many moms forget to pack what they'll need for their stay at the hospital! Maybe it's baby brain, or maybe it's just wanting to make sure we have everything we need for baby that we rush through prepping ourselves. Whatever the reason, you can use this checklist to make sure you don't miss anything important.
A bag with clothing (all that you don't mind getting ruined): non-slip socks, maternity underwear, comfortable clothes to wear home, slippers, a robe or sweater, nightgown or long t-shirt.
Toiletries: toothbrush, toothpaste, body wash, shampoo, hair dryer, elastic hair bands, hair brush, etc.
Something to pass the time: Kindle, crossword puzzles, magazines, favorite movies and a portable DVD player, MP3 player or iPod with music, pen and paper (great for writing down your experience, too!), etc. Nothing that you can't put down at a moment's notice, but things that will fight off boredom when baby is sleeping.
Maternity supplies: breast pump and nipple cream if you're breastfeeding, nursing bra and pads (even if you're bottle feeding to help with support and leaking).
Packing for Your Partner
Clothing: At least one change of clothes, in case delivery goes overnight.
Toiletries: Keep it light, but make sure they have the essentials—toothbrush, toothpaste, razor, soap, shampoo, etc.
Pillow, blanket, books, magazines, and money for the vending machine.
Packing for Baby
Carseat, blankets, and outerwear (hat, socks, etc) for the ride home.
Diaper bag with one outfit for going home in and one to take photos in. Make the remaining outfits things like onsies, sack sleepers, etc. While it may be tempting to take all the cute stuff you have, you're likely to find that you're changing baby a lot more than you anticipated.
Don't Forget the Other Essentials
Camera, extra film or memory card, extra batteries, cell phone and charger, contact information for all your friends and family, charger for any other electronics you may be bringing along, insurance information, baby book, birth plan (if you have one).
---
[ad]