In a less than ideal situation, a 13-year-old boy and his 15-year-old girlfriend have welcomed a baby in the UK.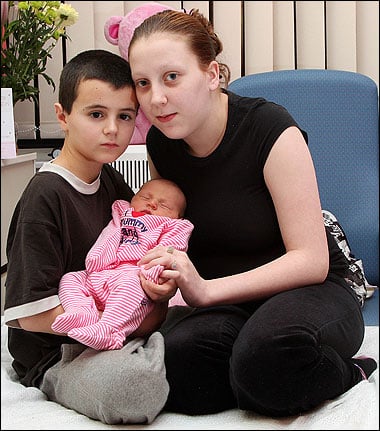 Baby-faced Alfie Patten, who is 13 but looks more like eight, became a father four days ago when his girlfriend Chantelle Steadman gave birth to 7lb 3oz Maisie Roxanne.
The pair decided against an abortion after they discovered they were having a baby.
Maisie was conceived after Chantelle and Alfie, who was just 12 at the time, had a single night of unprotected sex.
They found out about the baby when Chantelle was 12 weeks pregnant. But they kept it a secret until six weeks later when Chantelle's mum Penny, 38, became suspicious about her weight gain and confronted her.
The baby and mommy were released from the hospital yesterday. They will be living with Chantelle's dad, who is currently jobless, and her five brothers in a rented home. The family lives on benefits.
Even though Alfie spends the nights, he still goes to school during the day.
While they are getting support from their parents, it doesn't seem that either side is stepping up to do the bulk of the parenting duties.
Alfie's dad, who is separated from his mom, believes the young dad is scared deep down.
He said: "Everyone is telling him things and it's going round in his head. It hasn't really dawned on him. He hasn't got a clue of what the baby means and can't explain how he feels. All he knows is mum and dad will help."
I can't imagine my son having a baby at 13… These kids have no idea how much work is involved in growing a healthy baby.
Heck some days, it's too much work for me!
Related Articles: