Shawn Tyson Williams Burgoyne broke records this week when he arrived weighing a robust 13lbs 9.5ozs at the East Kootenay Regional Hospital in British Columbia.
Double the size of the average newborn, Shawn was actually two weeks early!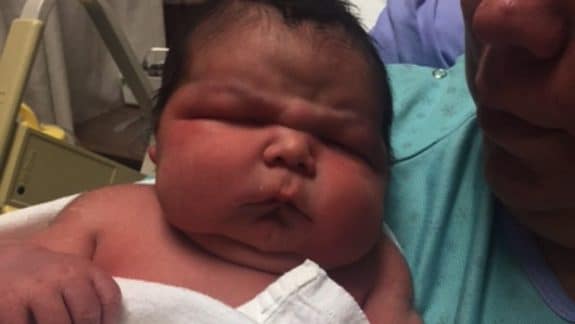 His mom Colleen had scheduled a C-section, but was admitted to hospital on Sunday because she'd been sick with a cold and flu.
"I was kind of ready," she laughed.
And while the last few weeks of her pregnancy had been very uncomfortable, she had no idea the baby she was carrying was so big.
"I had an ultrasound a couple weeks before and it said that he was 12 pounds but they said it's not that accurate, so my doctor thought he was 10 or 11 pounds," she told CTV news.
Instead, he set a birth record at the hospital.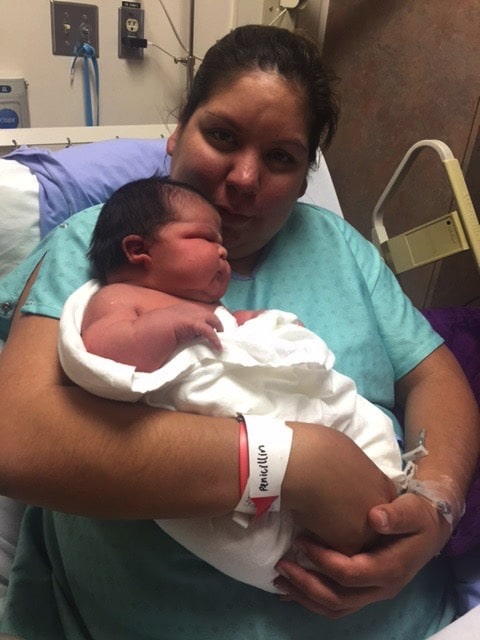 "When I first saw him I was just so shocked by how big he is and how he's just so chunky and cute," Colleen said of the moment she first held the big baby.
"He's a really good baby. He has a loud cry when he wants to, he knows what he wants."
Colleen also has another little boy, who weighed just 9lbs when he was born last year.
Shawn is expected to go home in the next couple days.  The hospital staff, the new mom said, 'just adores' him.
In April a mom in New Zealand shocked many when she delivered a 16lb 4 ounce baby.
It was not revealed if this mom suffered from gestation diabetes. The pregnancy condition is often responsible for babies being larger than the average as 'extra glucose in your bloodstream crosses the placenta, which triggers your baby's pancreas to make extra insulin'.
---
[ad]