Louisiana resident LaQueena Hunter Grover was so large during her recent pregnancy that friends and family members believed that she was pregnant with more than one baby. Mrs. Grover told news station WDSU that people kept insisting she would give birth to twins or even triplets.
The pregnancy was Grover's fourth. Her first two children weighed no more than seven lbs. each, and her third child weighed in heavier at 11.9 lbs.
On her December 6th delivery day, Grover gave birth to a single baby…but an exceptionally large one. Her healthy baby boy, Loyalty Adonis Grover had a birth weight of 14 lbs. 1 ounce.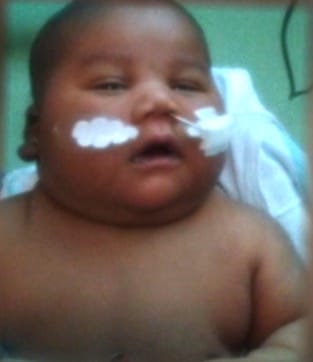 She admits that the delivery was painful, and certainly surprising. As the doctor took the baby out, her husband's mouth literally dropped open. He told her "it's a boy – a big boy."
The hospital staff believes that Loyalty may be the heaviest baby they have ever delivered.
A typical newborn wears a size 1 Pamper, but this baby started his life in a size 3. It's very lucky that there are older siblings in the family since newborn clothing doesn't work for Loyalty, who will make good use of their hand-me-downs. He already wears clothing sized for three-to-six-month-olds, and even some items intended for the six-to-nine-month-old crowd. Mrs. Grover says she put shorts on him sized for an 18-month-old and they fit just fine.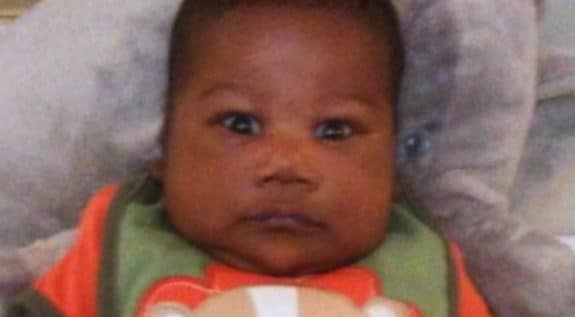 The proud mom told the news station that her baby boy is a happy infant who knows what he wants. He doesn't like being wet and wants to be changed immediately. The same is true when he's ready to eat. Loyalty wants to be fed right away when he is hungry.
His parents say that the experience of delivering their big boy is one to remember. But LaQueena says this is her last child. She has no plans to have additional children after her heavyweight bundle of joy.
---
[ad]
Save