As we count down to the big day one of the hardest age groups to buy for is 0-1, mainly because the skill development in children under the age of 1 varies greatly from child to child.
The list I have put together isn't filled with new releases but tried and true products that have either worked for our family or have gotten rave reviews from other moms in our community.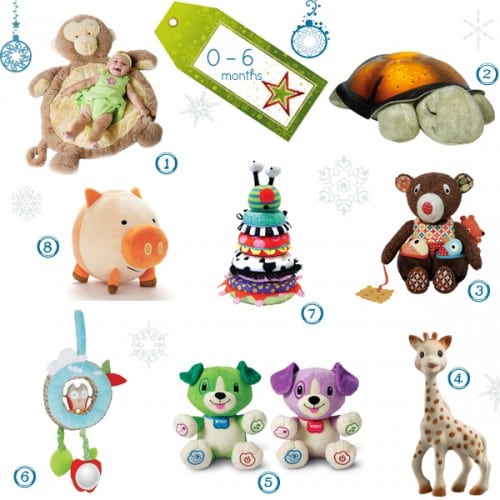 1. Best EVER Mat($50) –Cloud B Turtle($23) 3.Activity Bear from Woodours 4. Sophie ($18) 5.LeapFrog My Pal Scout/Violet ($17) 6.Skip Hop Treetop Friends Night and Day Discovery Toy($15) 7. Kushies Zolo Boa Stacker ($40) 8. Skip Hop Animal Chime Ball($13)
Many of the toys in this category have been favorites in our household. The Best Ever Mat is a popular choice among new moms because it doubles as a comfy playspace and an adorable friend. The Cloud B Turtle is a great light for late-night feedings and changes and Sophie the Giraffe is a staple for teething babies. The Kushies Zolo Boa Stacker is a favorite for its personable look and soft, bright, easy-to-hold rings. LeapFrog's Scout/Violet dolls are my go-to gift for a new baby because they are both very cute, incredibly customizable, and easy to use. The Woodours is a new line of infant toys created with different patterns and textures that will appeal to all your child's senses. Plus he comes loaded with extras in his pockets! SkipHop's squeezable, lovable chime ball can come as a cow, pig, or duck. It is hugable, rollable, and plays soft music all at the same time. Also on the list for SkipHop is their newly introduced Treetop Friends Discovery toy. This portable Owl in a Tree features a teether, mirror, and crinkly ears.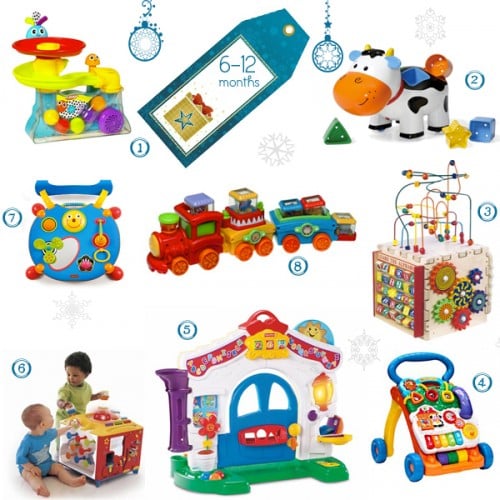 1. Playskool Ball Popper($17) 2.Infantino Color and Shapes Mover Cow 3. Deluxe Miniplay Cube by Anatex($109) 4. Vtech Sit to Stand Baby Learning Walker($50) 5. Fisher-Price Laugh & Learn Learning Home($90) 6. Fisher-Price Peek-a-Blocks IncrediBlock($120) 7. Tiny Love Developlay Activity Center ($32) 8. Fisher-Price Peek a Block Train
($30)
For babies 6 months and up we love toys that offer lots of play options. Number one on our list is the Fisher-Price Laugh N Learn House. This has been a BIG hit at our house. We bought ours 5 years ago and my 2 boys still play with it almost daily. Also on the list by Fisher-Price is the Peek-a-Blocks Train. This colorful train will travel across your room while moving the blocks in the backup and down. Infantino's Cow is a cute toy for kids 9 months and up. It has 3 play modes, moves, and moos if your child gets the shape in the right spot. The Tiny Love Developlay offers to play on both sides for 6 months+. It is another toy that was popular with both of my boys. In fact, at the age of 2, my youngest still pulls it out to hear its music and spins the smiley face. Popular with my girlfriends, Playskool's Ball Popper will keep your little one giggling and crawling to retrieve their balls. Both the Miniplay Cube and Incrediblock offer 5 sides of play and are great for a child that can sit or is learning to stand.
Related Articles:
---