A New Zealand couple was left shocked and surprised after their baby arrived weighing a robust 16 pounds 4 ounces! One of the region's biggest babies ever, the newborn weighed twice the average weight of a newborn baby.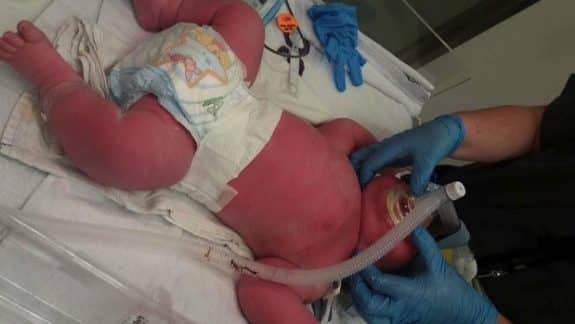 The mom-to-be, whose identity has not been revealed, may have had an idea her baby was going to be larger than average when she had trouble bending over while pregnant.
During the final months of her pregnancy, doctors also had predicted the child could be as large as 14lbs.
He shattered that birth weight and measured 57cm long.
"People are calling him the next Jonah Lomu, but we think he'll be a concert pianist," the father said. "He has a good set of lungs."
Adding,
"We are not that tall ourselves, so we are not sure where his size has come from – at the moment we are thinking he's probably just a big baby."
The couple's first child was also larger than average at birth – weighing 11.8 pounds.
The newborn, who is the size of a 4-5 month-old baby, has also skipped newborn diapers and is currently in the third size up called crawlers for children weighing between 6kg and 11kg. He will also bypass newborn clothes and go straight into 6-9 months sleepers.
It was not revealed if the mom-to-be suffered from gestation diabetes. This pregnancy condition is often responsible for babies being larger than the average as 'extra glucose in your bloodstream crosses the placenta, which triggers your baby's pancreas to make extra insulin'.
Earlier this year Australian mom Nina Tassell welcomed her 13lb baby boy naturally at HOME! In December, Louisiana resident LaQueena Hunter Grover gave birth to a 14lb 1 ounce baby boy!
---
[ad]
Save
Save