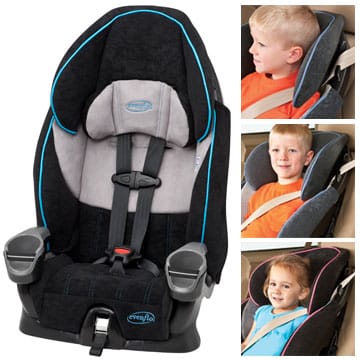 One of the nation's largest makers of baby and child gear said today it is recalling more than 18,000 child car seats in the United States and Canada after Consumer Reports tests showed the seat can crack and fail in a simulated 30-mph frontal collision.
The recall, by Evenflo Company, Inc., of Miamisburg, Ohio, affects early production units of the Evenflo Maestro Combination Booster Seat. The $80 Maestro, introduced last January, is designed to be used either with its own five-point harness as a conventional child seat, or – for larger and older children – as a booster seat using the vehicle's seat belt to restrain the child.
In tests conducted at an outside laboratory, Consumer Reports found that two of the Evenflo units failed when the seat's plastic shell cracked and the harness loosened in CR's simulated 30-mph frontal-impact crashes..
Both failures came when the seat was being used with its five-point harness; CR's testers found no problems in booster seat mode. And the two that failed were manufactured in December and February, respectively, well before the April 2010 cutoff date for the recall. Later production units, those made after April and not subject to the recall, included certain design modifications and passed our tests. CR believes they are safe to use.
Consumer Reports shared its results with Evenflo, and today the company said it has voluntarily recalled 13,792 units sold or available for sale in the U.S. and another 4,479 units in Canada. The affected U.S. units include all those manufactured up to April 9, 2010; in Canada, units manufactured up to April 26, 2010 are affected, the company said.
Evenflo said its recent tests replicated the Consumer Reports finding, though it has no reports of cracks developing in the field or of any actual injuries resulting from the problem. The company is asking retailers to pull the recalled units from their shelves.
The company added that it has developed a fix, a "remedy kit [that] includes an easily installed bracket to reinforce the seat without tools," that will be distributed free to owners of the recalled units. It advised people who are still using the Maestro with the harness (for children under 40 pounds) not to use their seat until it has been upgraded. Customers may call a special phone number to receive the kit (800-233-5921 in the U.S. or 800-265-0749 in Canada). Consumer Reports will perform follow-up tests on seats incorporating the remedy kit as soon as possible.
Owners who are using the seat in its booster mode for children over 40 pounds may continue using the seat, the company said. The seat was rated a "Best Bet" by the Insurance Institute for Highway Safety for use in booster mode.
To find out if your unit is among those to be recalled, check the manufacture date and model number – both of which appear on a white label behind the seat as well as on the box. Affected model numbers in the U.S. are 3101198, 3101980, 31011048, 31011049, and 31011059 and in Canada it is 31011057C.
Consumer Reports urges parents who are using the Maestro with its harness to obtain a remedy kit as soon as possible. "Even though there have been no reports of injuries, loose harness straps can allow a child's body to move farther forward during a crash than they would if the harness was tight. That could expose a child to potential injury and to an increased risk of ejection in a crash," says Jennifer Stockburger, manager of Consumer Reports' vehicle-and-child-safety program.
Stockburger cautions owners not to switch to booster mode prematurely simply because the problems were identified only in harness mode. "A child is better secured and has less potential for injury in a crash when secured using a seat's internal harness. Moving a child to a booster seat mode prematurely is actually a step-down in overall safety," she says.
Related Articles:
---