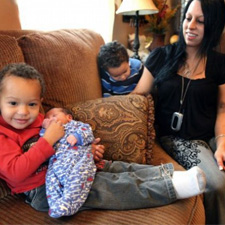 A Tennessee mom was caught by surprise when her fourth child, who was scheduled to be delivered by C-section, arrived 3 weeks early – at home.
After experiencing contractions all night, Bobbye Favazza, 27, called her daughter in around 8:30 a.m. to call 911.
When emergency services personnel didn't arrive in time to help, Bobbye's 2-year-old son Jeremiha Taylor stepped in.
Jeremiha even remained calm and went to get his mom a towel,without being told, when she started to bleed.
"It happened so fast," Favazza said. "My water broke, and the baby came two to three minutes later. I just pushed and (Jeremiha) caught him."

In order to open the door for the arriving firefighters, Favazza held her newborn with the umbilical cord still attached.
Mother and baby finally arrived to the hospital, where they were each given a clean bill of health.

SOURCEPhoto by Stan Carroll
---