A beloved brand for over 70 years with content airing in 130 countries, Thomas & Friends continues to grow around the world.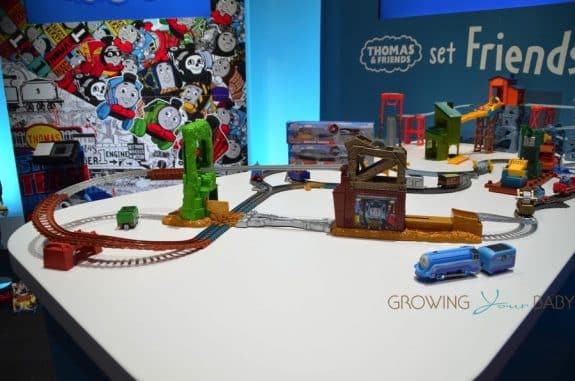 This year fans can look forward to some cool new sets and toys for pre-schoolers.
Here are some of the toys we previewed at Toy Fair in NYC a couple weeks ago.
Thomas & Friends Super Station
This Fall Mattel will debut the ultimate Thomas playset designed to work with all scales and sizes of engines (excluding Thomas & Friends My First).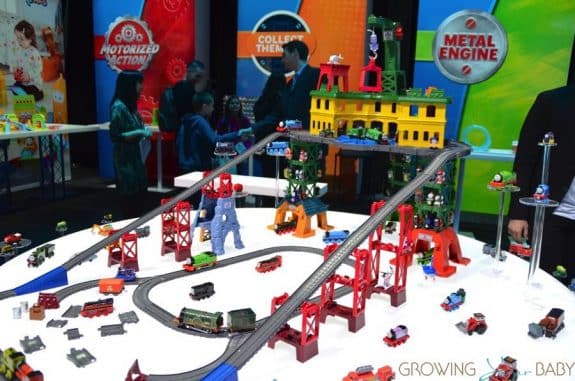 Its unique universal track accommodates your entire collection!  Includes Harold, TrackMaster "Thomas", Adventures "Percy" and MINIS "James".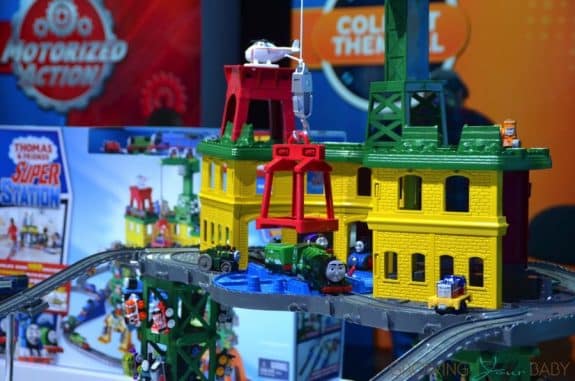 This gigantic set can be reconfigured into multiple layouts; including a small footprint option.  It will hold over 100 engines and it features Cranky and Owen, as well as iconic Sodor locations like Tidmouth Sheds, Brendam Docks, Knapford Station, Search & Rescue Center, and more!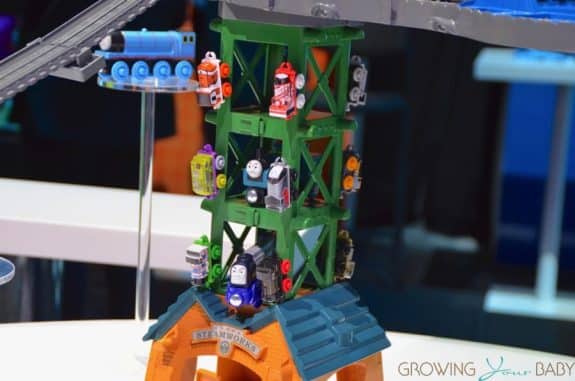 My First Thomas & Friends Railway Pals Destination Discovery
Also coming this Fall, the My First Thomas & Friends Railway Pals Destination Discovery is an interactive, expandable train set for toddlers that includes more than 50 sounds, songs and educational phrases.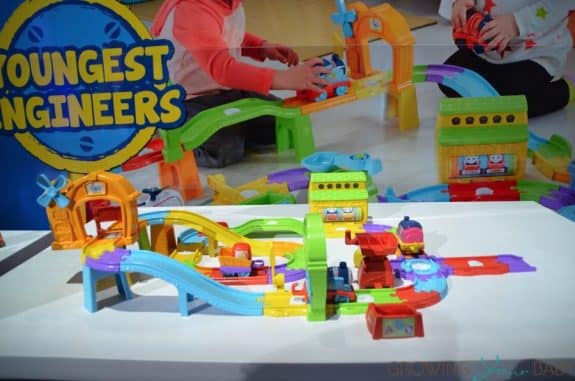 This set features popular destinations: Knapford Station, McColl's Farm, and an electronic Tidmouth Sheds.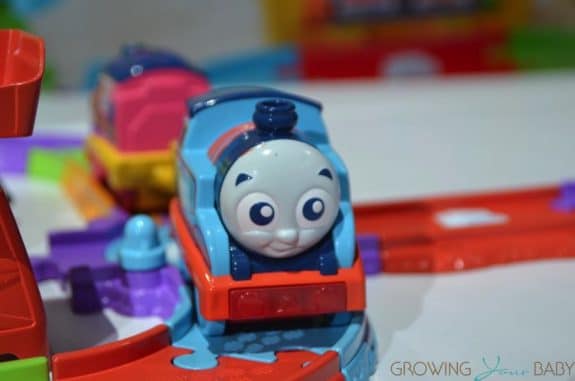 Roll Percy over track activation points to hear educational content that exposes toddlers to letters, numbers, directions (over/under and up/down), and colors Press Percy's light-up bumper for additional music, sounds and phrases.
The easy to build system is perfect for little hands featuring universal track connectors and ramp piece to take play on and off track. Track and activation points are compatible with other Railway PalsTM vehicles (sold separately and subject to availability)
My First Thomas & Friends Railway Pals Single Engine Asst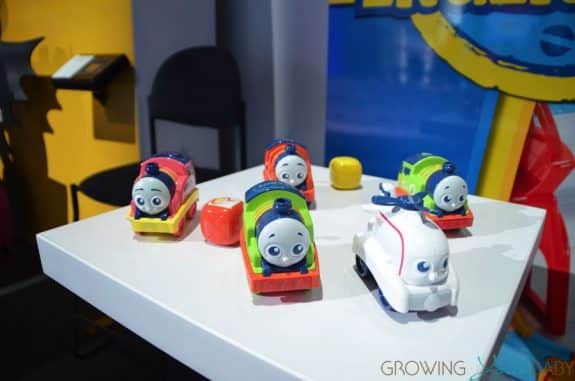 Thomas & Friends My First push-along single engine assortment features 5 characters: Thomas, Percy, James, Rosie & Harold Engines
These new pre-school trains feature lights and sounds that are activated by the front bumper, or when engine rolls over activation points along the Railway Pals track
Thomas & Friends Trackmaster Cable Bridge Set
Inspired by the Thomas & Friends DVD, Journey Beyond Sodor, the Thomas & Friends Trackmaster Cable Bridge Set($49.99) features a Thomas motorized toy train that helps kids relive the most thrilling moments from the movie.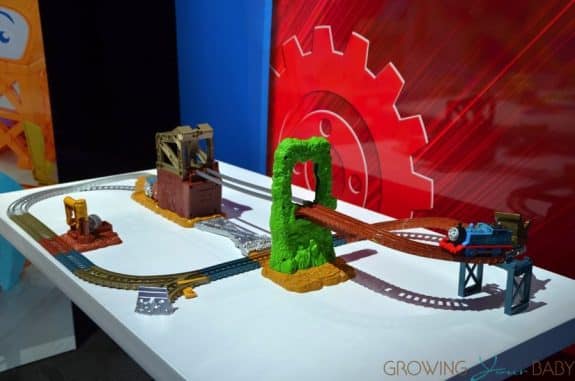 Thomas needs to make a daring escape from the Steelworks. The TrackMaster Cable Bridge Set from Fisher-Price lets kids send motorized Thomas up toward the moss-covered ledge, and just when it looks like he can't go any further, the cables drop to provide a safe crossing!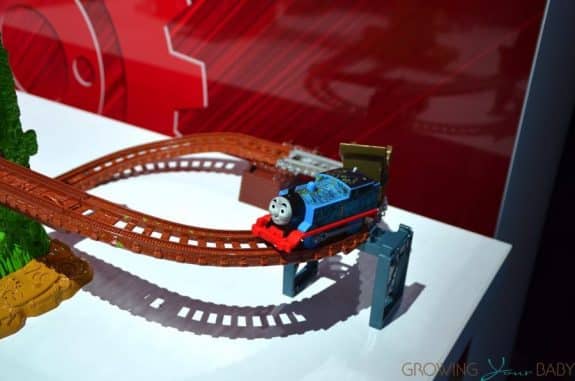 But Thomas isn't free from danger yet. After navigating the cable bridge, he enters the Steelworks shack, where a large machine cog falls into his cargo car. He speeds forward, but there's a gap in the tracks! It looks like Thomas will tumble over the edge … until, at the final moment, a hill shoots out from beneath the shack, offering Thomas a safe route down.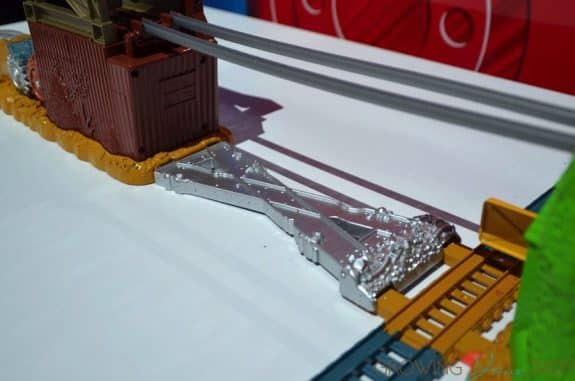 The journey continues as the No. 1 blue engine speeds around a curve, and a machine arm snatches the cog from his cargo car, then drops it in the cargo holder.
Complete Thomas & Friends train set includes motorized Thomas, cargo car, two cargo pieces, and full track layout with cable bridge crossing, Steelworks shack, and cargo grabber/holder Connect to other TrackMaster train sets and expansion packs (sold separately) to create a bigger, more exciting motorized railway.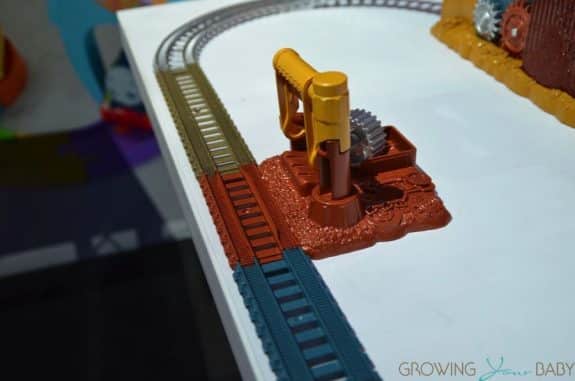 ---
[ad]