If is not traumatic enough to be born at 24 weeks, little Latiya arrived 16 weeks early while her mom was going to the bathroom.
On arrival, Latiya's mom thought the little fighter, who weighed just a pound, was not alive.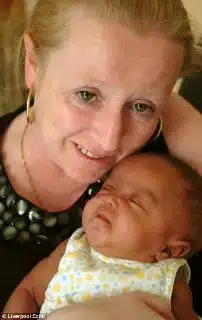 Reliving the dramatic moment Marie, 38, said:
"Latiya wasn't breathing and her body was blue. "My brother called 999 and the call taker Graeme Maylor gave instructions to him.

"Graeme reassured him that the ambulance was on its way and within minutes a rapid response vehicle arrived."

Steve Clarke was the first paramedic on the scene.

He resuscitated Latiya, who was no bigger than the palm of his hand, before paramedics John Mitchell and Danielle Bond rushed her to Liverpool Women's hospital.
Just moments after arriving at the hospital paramedics ran the baby up to the NICU and put the baby in incubator, hoping it could help save her life.
The one pounder remained in the incubator for 10 days before being transferred to Alder Hey hospital for an operation on her bowel.
She then remained in an incubator for another three-and-a-half months and then probably to a crib when she was old enough to control her own temperature. Latiya has been diagnosed as being deaf in one ear, but that is currently the only problems she is believed to have.
This could change when she starts to walk and talk but the fact that she is able to breathe independently and doesn't need assistance being fed is definitely a good start! Seconds after my son was born, he was wrapped in plastic and rushed into a room where there was a team of 7 people waiting to work on him
The fact that this baby did not benefit from having a Neonatalogist look after her moments after birth AND she still survived is amazing!
Related Articles:
---