A Melbourne mom had the surprise of her life, when, at 37 weeks, she gave birth to one of the biggest premature babies yet at the Angliss Hospital.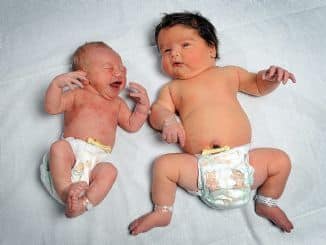 On November 16 Brunella Callaghan welcomed her second child, Cara, by caesarean.  Despite the fact that the bub was 3 weeks early she weighed 12lb 8ozs!
Mrs Callaghan, 35, said she was "very big" throughout her pregnancy but she did not expect Cara to be so large.
"I guess it could be to do with diabetes, even though I passed a (diabetes) test – I'm going to be retested in a few weeks," she said.
Cara's son Oliver, now 3, weighed almost 8lb 8oz at birth.
"I've been told if I have another child it could be even bigger," she said.
The birthing suites manager at the hospital, Dawn Worgan said 18 babies weighing over 5kg had been born at the hospital since June 2008.
"She's not the biggest baby ever, but at three weeks' premature she is certainly one of the biggest," Ms Worgan said.
Just last week a German mom welcomed a 13lb little boy Jihad.
Related Articles:
---
[ad]