Proud mom-to-be Jenn Cusimano of Oshawa, Ontario posted her 3D ultrasound picture on a Facebook site for expectant mothers and invited other women to post theirs, too. Jenn's picture was taken May 3 at Baby View Prenatal Image. Shortly after her posting, another expectant mom posted her own ultrasound image taken on April 9. And that's when the trouble began.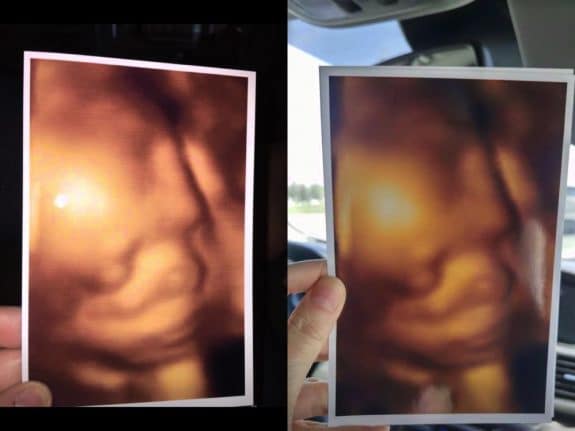 The pictures were taken at the same clinic and appeared to be identical. Another image – also appearing identical – was on that company's website. Since last week, 13 more women have posted on Facebook saying that they received the same ultrasound image.
These women are outraged and upset. Cusimano says that the picture she believed was of her baby boy has been sitting framed in her house for the past two weeks.
Adeel Mir and his wife Moshina Adeelmir have owned and operated Baby View Prenatal Image for six months, and Adeel says that a computer glitch is the culprit. He takes care of the clinic's IT issues and his wife, who was a doctor in Pakistan, is a licensed sonographer in Ontario. Mir says he suspects a computer virus caused the replicated images, although he's not certain. "To be honest, we still don't know what happened," he says, noting that he only learned of the problem on Wednesday.
According to Mir, there are specific folders for each client, but he believes that due to a computer virus the images were not going into the designated folder. He also says it can be "challenging" for a sonographer to immediately detect when images of a baby taken during an ultrasound don't match up with the printed photo, since at 22 weeks of gestation and younger "the features of babies are 99.9% similar."
Mir has apologized on behalf of Baby View and is offering clients who received incorrect images either a refund or another free session. Multiple women sent CTVNews.ca what appears to be the same image from their own Baby View appointments, along with invoices for their sessions.
Cusimano called the clinic and was offered new images free of charge, but that hasn't helped the anxiety, stress and disappointment she feels. She says that she never saw a clear image of her baby during the ultrasound, but was told to sit in a waiting room where a sonographer brought her a photo that she believed was of her son. The sonographer's exact words then were "I just cleaned it up a little bit." Jenn thought that was strange but assumed it meant that some of the blurriness had been removed for a clearer image. Now she's left wondering.
She plans to go to a different clinic to confirm her child's gender and get new photos.
The most difficult part for Cusimano – and the other women who are considering a class-action suit against Baby View – is the thought that if she lost her baby, she would have no true image of him or her.
---
[ad]