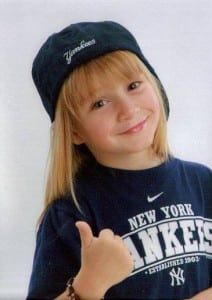 Jack Szablewski is a normal 4 year-old boy with a big heart. Unfortunately, that big heart got him barred from the Pre-Kindergarten school he was enrolled in. The boy was growing out his hair for Locks Of Love, but the school said long hair on boys was against the rules.
Jack's long hair was more than just a style, it was a gift. His grandfather died of lung cancer, and the boy decided to open his heart by growing out his hair to donate. Locks of Love, a charity organization that makes wigs for children suffering from cancer, was going to be the recipient of his long hair once he had grown it out more. When Jack's mother, Renee Szablewski, enrolled him she let the school know about his special project.
St. Dominic, a parochial school in New Jersey where Jack was set to go next fall, made changes over the summer on their rules about appearance. One rule was that boys had to keep their hair neat and trimmed. Though Jack was only attending pre-kindergarten, the school decided that his hair was already too long.
The school gave the family a time line of cutting it before October of this year. The family had planned to have it cut to donate on September 30, however a storm prevented them from being able to make it. When Jack showed up for school on October 1st, still with his long hair, he was barred from class.
"The teacher wouldn't let him through the doors and left us standing out in the rain," Szablewski said. "He didn't do anything wrong, and he's the victim here."
The school has maintained that while they feel Jack is innocent, Renee is a bad mother for his long hair. Despite the family's plans to use the hair as a donation, the school feels that appearance is more important.
"She told me it was our decision to make our son different, which I found repulsive," Szablewski said. "My last words to her were, 'What would Jesus do?' "

The Szablewskis worry now that they will not be able to enroll their son in any Catholic school in the area. Renee has offered to meet with the principle to discuss the matter, but the school has not met this request.
"I love my church, but this isn't about the church. It's about the authority and power and power abuse," she said.
– Summer, staff writer
Related Articles:
---