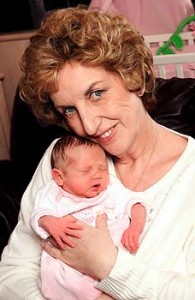 Susan Tollefsen is ecstatic to experience motherhood for first time – at the age of 57.
The new mom believed that this day would never come after she spent several years attempting to have a baby using IVF treatment in foreign clinics.
It wasn't until she was 30 weeks pregnant that it was revealed, during an ultrasound, she was expecting her first baby.
Susan and her partner Nick Mayer, who is 11 years her junior, thought their final hope had been dashed last August when she suffered what appeared to be a miscarriage.But nature had other ideas. Mrs Tollefsen was still pregnant and on Tuesday she went in to hospital where Freya was delivered by Caesarean section weighing 6lb 6oz.
The couple is beyond excited about Freya's arrival. Susan was quoted saying:
"They put her on my chest and I think I just sat staring at her for a couple of hours. I was stroking and cuddling her and said to her 'I've been waiting for you for such a long time, now you have come you really are a little miracle baby'."
When asked about what her daughter will do when her mother gets older, Susan said that she will "cross that bridge when we come to it" and feels as healthy and capable as any other mother. We wish this family good health and lots of energy!
Related Articles:
---