Jonah Pournazarian goes to school like most 7-year-old boys. And just like most kids his age, Jonah has a best friend, Dylan. But unlike other kids his age, Jonah is fighting a rare medical condition for which there is no cure; Jonah has glycogen storage disease type 1B.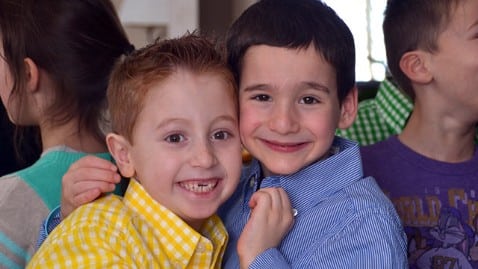 Diagnosed when he was just a baby, Jonah used to suffer from night sweats and low blood sugar. Now, he has to be fed from a tube – chicken soup and vegetables mixed with cornstarch. His feeding schedule must be followed to the minute; the alarm clock in his parent's bedroom is set to go off at 3:30 every morning. And his parents have had to talk directly to parents at Jonah's school to ensure that parents either keep their children home from school if they're sick or notify the Pournazarians directly so they can keep Jonah home.
"What could be a common cold…will land Jonah in the hospital for five to six days," Jonah's father, Rabin Pournazarian told ABCNews.com.
Since he was about a year old, Jonah's parents have been working on raising money to help fund research for their son's condition. So far, they've raised $400,000. Mostly donated by friends and family, Jonah's father says the fund has been "very grassroots." But a very unexpected contributor is looking to more than double what they've raised; and he's already well on his way.
The unexpected contributor is Jonah's best friend, 6-year-old Dylan Siegel. It was last fall that he decided he wanted to help raise money for research that may eventually help his best friend. He went to his parents for help.
"We said, 'Let's do a lemonade stand, the typical thing,'" David Siegel, Dylan's father, told ABCNews.com. "He looked at us and said, 'I want to write a book.'"
And so, Dylan wrote (and illustrated) a book. In that book, he uses the word "Chocolate Bar" in place of the typically used word "cool." It starts out, "Disneyland is so chocolate bar." And it has the best ending you could ever imagine. "I like to help my friends. That is the biggest chocolate bar."
Whole Foods donated hundreds of chocolate bars to be sold with the books. A local Barnes & Noble bookstore set up a book signing. Dylan's father said there were more than 200 people in attendance. And people all the way from Tennessee to Missouri have donated money to the cause through the website and through Facebook.
After just two months, the book has already raised more than $30,000. And the book is already receiving national attention. The two best friends appeared together on the CBS television show "The Doctors" last week, sharing their story with viewers all over the country. According to Jonah's father, this is the most exposure that Jonah's condition has ever received; he says they are simply blown away by what Dylan has accomplished in so short a time, and they couldn't be more thrilled now that the funds are already being used at the University of Florida School of Medicine in Gainsville by Dr. David Weinstein for research that includes 200 families like Jonah's.
As you can guess, Dylan's father is as proud as can be of his son.
"We never dreamed that this was going to happen," David said. "It's just struck a nerfve and now we don't want to stop until we've hit our mission."
That mission? One million dollars!
It's so uplifting to find stories like this one, not just because it reminds us that love and humanity are still so very much alive, but because someone so small has proven to us that anyone can make a difference in the lives of others.
To donate please visit UF Online Giving
Related Articles:
---
[ad]