Many parents have a Nativity scene in the house to tell the story of Baby Jesus, but it is normally off limits to little hands because it is made of ceramic.
Make Christmas more meaningful for your children by giving them a hands-on opportunity to learn about the first Holy Night.
Here are 7 nativity sets that were created with little ones in mind.
---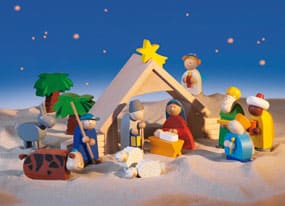 Haba has created a high-quality nativity that children can actually play with and enjoy! This wonderful children's nativity set includes 18 detailed wooden pieces, beautifully crafted of beech wood finished with beeswax. These nativity figures bring to life the story of the nativity. The HABA Nativity Set is sure to become a treasured holiday heirloom to enjoy year after year, and comes packaged in a cheerful sturdy box. For ages 3+
$95
---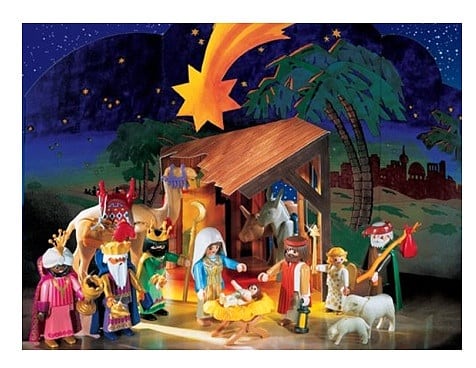 This Fabulous 59pc. set includes the three wise kings, manager animals, and an accompanying story book of the First Christmas. Figures set up in a stand-up cardstock stable, included for display after play (approx. 17″ x 11″).
*All Playmobil figures have accessories that snap in place into hands, onto heads, or onto bodies, making for hours of interchangeable fun and boundless play value. Recommended for ages 4 and up. *
$24.99
---
3. Little People Nativity Scene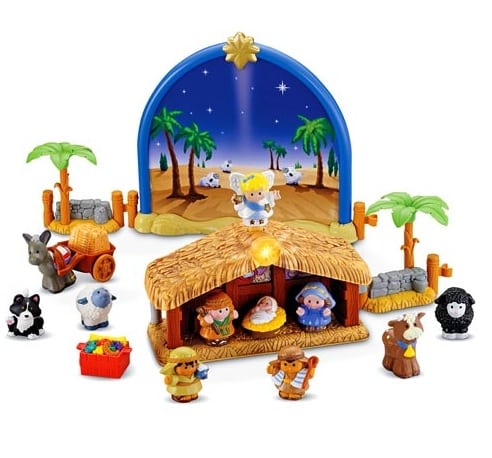 New for the 2008 Holiday Edition, Little People's Nativity scene includes Mary, Joseph, baby Jesus, an angel, two shepherds, two sheep, a sheep dog, a cow, a donkey and a donkey cart with food and a bale of hay. A starry night background scene and two palm tree fence pieces connect with other Little People play sets.
$39
---
4. Wooden Nativity Play Set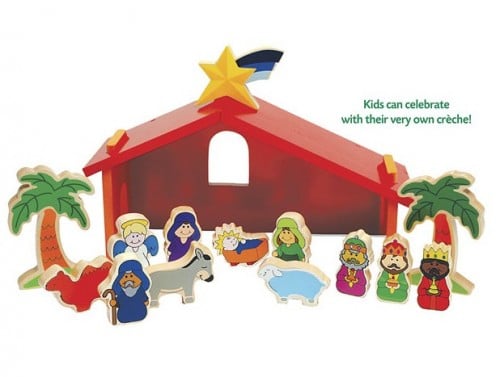 This wooden nativity set comes with a sturdy stable and 14 colorful all-wood pieces – Baby Jesus, Wise Men, Mary, Joseph, and more…plus the brightest star in the sky! 12″ wide. Ages 3+.
$29.95 at youngexplorers.com
---
5. Veggie Tales Nativity Scene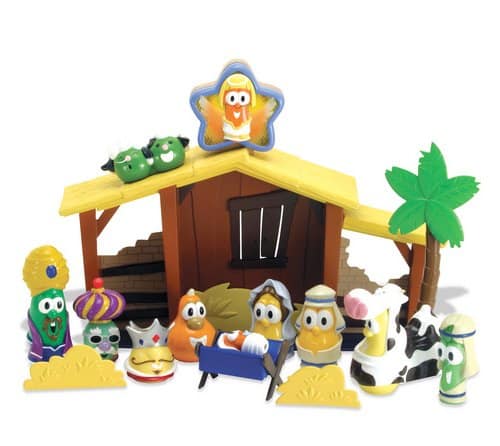 Veggie Tales offers the story of Baby Jesus with a twist – of cucumber! Veggies tales offers a charming set chunky toys that kids can set up their own Nativity Scene, and you won't worry about it breaking. Set includes, the manger, and ten Veggie Tale figures. Laura Angel watches over the scene in a flashing star, singing "Oh, Little Town of Bethlehem." Requires 3 button cells (included). Measures 11.5″L x 2.65″W x 8.9″H.
$23
---
6. Personalized Deluxe Nativity Set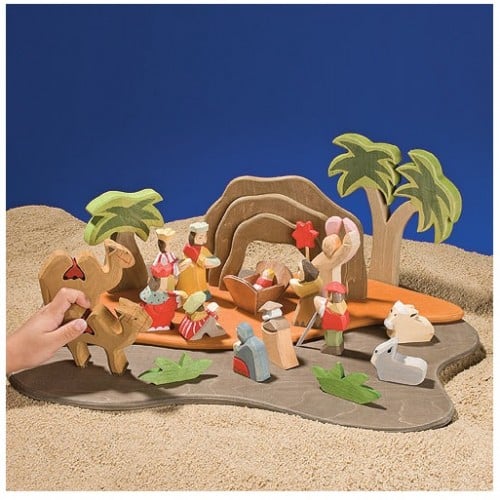 This beautifully carved wood Nativity scene was created so that kids can handle it as much as they like. It is great way to learn the Christmas story; a great family keepsake! 24 pieces, in a wooden box made for personalizing. For ages 3 and up.
---
7. 12-Pc Nativity Set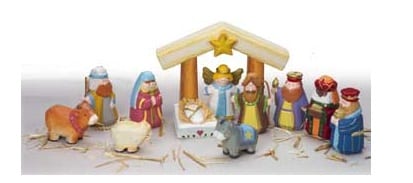 This simple hand-carved, wooden set invites hands-on enjoyment. Its child-like, folkart craftsmanship will charm everyone while displaying the essence of Christmas. The Joseph figure stands 3¼" H. The accompanying Tomie DePaola "Little Christmas Pageant" board book (sold separately) is a charming, rendition of this timeless story. Ages 4 yrs. +
$29.99 at constplay.com
Related Articles:
---
[ad]