The biggest trend in the stroller market over the last few years has been ultra compact strollers. The GB pockit kicked off a design that has become very popular with parents in urban cities and those who want lots of options while traveling without the bulk. This year some new manufacturers have emerged, while many established brands are debuting products into this very competitive market!
Here are some of our favorites compact strollers to look for in stores!
Dubbed as 'a new company for a new generation of parents', Colugo has entered the gear marked with a compact stroller that folds with one hand and fits almost anywhere.
The Colugo weighs 16lbs and it was designed for kids from 6 months to 55lbs. The package includes the Stroller, Rain Cover, Carry Backpack.
The stroller retails for $299 and parents can bundle it with other products from the company's collection including a baby carrier, stroller liner and bassinet.
Folded Dimensions: 17" x 24" x 10"
Unfolded Dimensions: 17" x 26" x 41"
This June Spanish stroller company Baby Monsters will launch in the United States with a new compact stroller called the Marla. Weighing 22lbs, this new pram is designed to be used from birth with its 180 degree seat recline. It also features a reversible seat, large extendable canopy and adjustable handle bar. The stroller is infant seat compatible and can be used with a carrycot.
It will retail for $499 when it's released.
Weighing in at 13lbs, the new Quid stroller comes with a bumper bar, 3- panel canopy, and seat that reclines for napping babies.
Featuring a one-handed fold it measures 17.5cms, which is perfect for those who are low on space or planning to travel the world.
Maclaren Atom
Maclaren's new Atom stroller is a breath of fresh air for the brand. It has been years since they debuted a new design and this new stroller offers a lot of great options for parents on-the-go. The leader in the travel stroller category for many years they had taken a back seat to new and upcoming brands in recent years.
The Atom puts them back on top weighing in at 11.93lbs! It is designed for babies from birth to 55lbs.
The extendable, waterproof and UPF 50+ hood includes a window and air vents. To keep your baby comfortable during naptime the multi-position reclining seat converts into a Newborn Safety System.
It is also compatible with infant car seats from Britax, Concord, Cybex, and Maxi-Cosi; Adaptors sold separately.
The atom style set includes a wind-resistant Raincover, Shoulder Pads, Jockey Strap, embroidered Seat Liner and Storage Bag.
The Atom retails for $499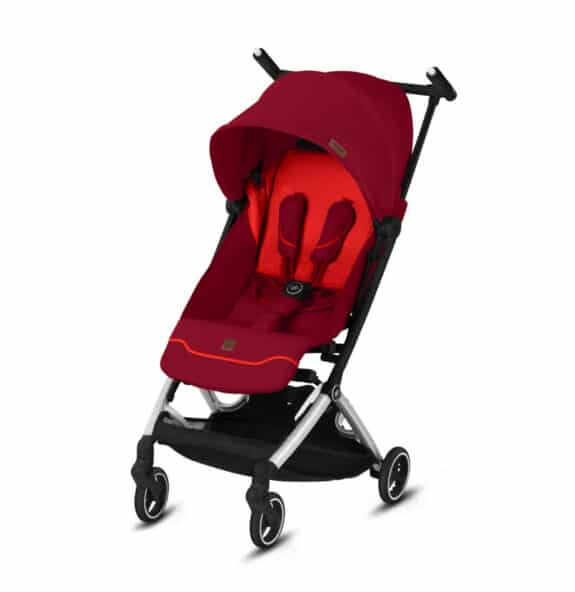 The GB Pockit stroller has evolved considerably in the 4 years since it was debuted!
Designed for babies 6 months up to 17 kg, the All City is a 3-in-1 travel system that is easily compatible with Cot to Go and gb/Cybex car seats.
Traveling parents will appreciate the bubble canopy and the stroller's deeper recline.
The All City features a single wheel design with suspension in each wheel.
The Pockit+ All-City weighs about 12.6 lbs and it still features the original ultra compact fold which dimensions are: 13.4? x 7.9? x 16.5?.
The Pockit+ All-City stroller retails for $249
Silver Cross has entered the compact baby stroller market with the Jet and this stroller definitely ticks a lot of boxes.
Weighing in at 13lbs, the Jet was designed for babies from birth to 40lbs. Parents can attach a compatible Maxi-Cosi, Nuna Pipa, or Cybex Aton infant car seat directly onto the stroller for a compact and convenient travel system.
A deep recline creates the perfect sleep environment for a sleepy baby, while a dynamic spring suspension system ensures a smooth ride!
Silver Cross' patented, super compact fold allows you to take the Jet stroller directly onto the plane and in the cabin.
Jet boasts a coordinating, fully-extendable UPF50+ hood with an air-flow ventilation system and pop-out sun visor for hot, sunny days.
Weighing only 14 pounds, the Maxi-Cosi Lara stroller maneuvers easily with one hand, and folds up compactly to be transported easily.
For your convenience, the Lara features a double-decker easy-to-access storage baskets.
The stroller was designed with a slight recline, which means it can be used from 6 months+
The Lara retails for $219.99