When Apple revealed their plans to introduce the iPad I was thrilled. Apple products have been a staple in our house for years and the thought of having a device that would be able to travel with us was exciting!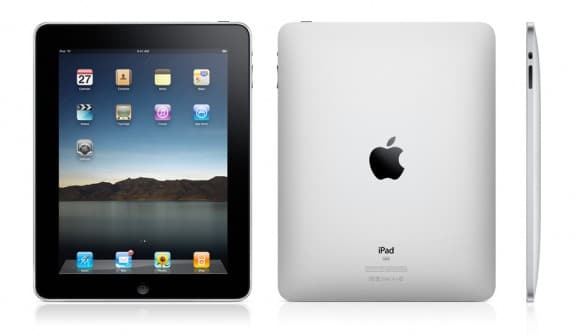 Unlike other kids his age, my four-year-old son is obsessed with multimedia. He loves movies, music and seeing how everything works. This makes keeping tech toys safe in our house a bit of a challenge. In fact the only toy that has come out unscathed is our iPod Touch. Because the iPad is really just a bigger version of the touch, I thought it would be perfect for us and it IS.
Here are the reasons why:
Easy To Use – Everything about the iPad is easy. All of the applications are easy to operate, the screen is set up beautifully and it took less than 10 minutes to load all of our content(12G) from our computer, which was a bonus as my son was sitting on my lap micro-managing the project.

No moving parts

– Aside from the volume button and the screen lock switch, there really aren't any buttons or movable parts on the iPad. Our portable DVD player has a million moving parts. The DVD door opens, which allows my son to touch all of the parts that are not meant to be touched causing it to skip and not play our movies properly.

BIG, Clear Screen

– The 9.7″ screen on the iPad is unbelievably clear. With a resolution of 1024×768, all of the apps and videos are sharp, bright and surprisingly good in direct sunlight. While using for the Internet or reading, I haven't experienced any eyestrain and both of boys love looking at pictures, watching movies and reading books.

Quick

– Because there aren't any applications running in the background the iPad plays videos and movies right away without stalling. I was also surprised at how well youtube played on it considering it stalls constantly on my Macbook. This is great for my son who wants everything to happen immediately. No waiting.

Light

– I know that many have criticized the iPad for being heavy(1.5lbs), but for us it weighs a fraction of the DVD player it replaced. It is also a quarter of the width with 4 inches more screen. We put ours in a protective case that has a stand so that it can sit upright like a TV.

Convenient for Travel

– Having all of my son's favourite things loaded on one device makes it easy for us to when going on vacation. We don't have to remember to pack DVD's, music, games, books. Plus not all airplanes offer inflight entertainment, something we learned during a LONG flight to Puerto Rico in February. It also has a battery of 8 hours, which is more than enough for us if traveling for the day.

ECO-Friendly

– Downloading everything we need right to iTunes reduces the amount of physical CD's we actually purchase. In fact, I think that we have downloaded the equivalent of 100 cd's, which is a significant savings in packaging, hardware and shipping. Additionally Apple's huge database of Applications will no doubt reduce the other toys we need to buy in the future. The interactive books, puzzles and memory games have been huge hit for us.

Versatile

– Unlike a toy computer, MP3 or DVD player, the iPad offers more than one application. Because new shows, songs and apps are constantly being released, we are always updating it with new stuff making it a new toy every few days.
We originally purchased the iPad as a device for our son, but it has become a hot item in our house for everyone. It's ability to accommodate every member of our family actually makes it an invaluable piece of electronics that will be treasured for years to come.
SPECS: 32G Wi-Fi iPad
1GHz Apple A4 custom-designed, high-performance, low-power system-on-a-chip
Wi-Fi (802.11a/b/g/n)
Bluetooth 2.1 + EDR technology
9.7-inch (diagonal) LED-backlit glossy widescreen Multi-Touch display with IPS technology
1024-by-768-pixel resolution at 132 pixels per inch (ppi)
Fingerprint-resistant oleophobic coating
Support for display of multiple languages and characters simultaneously
Built-in 25-watt-hour rechargeable lithium-polymer battery
Up to 10 hours of surfing the web on Wi-Fi, watching video, or listening to music
Up to 9 hours of surfing the web using 3G data network
Charging via power adapter or USB to computer system
Dock connector port
3.5-mm stereo headphone jack
Built-in speaker
Microphone
Micro SIM card tray (Wi-Fi + 3G model only)