Busy Philipps stayed comfy in a floral tiered maxi dress and flats while out running errands in West Hollywood on Thursday.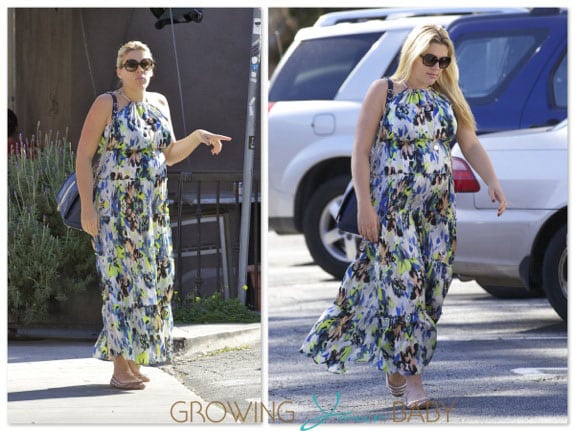 Due with her second child this Spring, the actress is not slowing down as she get closer to her due date. In fact, she and husband Mark Silverstein were spotted out at a friends birthday party later on that evening.
This pregnancy, she says, is different from his first.
"It's very different," Busy told E! News in January. "First off, I was not working [during] my first pregnancy because of the writers strike so I got to lay in bed until 11 a.m. and then I would saunter over to yoga.

"This first trimester, we were shooting furiously [on] Cougar Town. I was exhausted. I felt sick."
Now that she is in the homestretch, the family has started to pick out names and they have enlisted their 4-year-old daughter to help pick out names.
"We pitched her a couple of names today and she really didn't like them, so we're going to include her in the process," she said. "Her name is Birdie and my name is Busy, so I think anything she could come up with would probably be alright."
It will be interesting to see if she goes traditional or goes 'Hollywood' with her name choice.
---
{PACIFIC COAST NEWS, WENN}
---
[ad]