Busy Philipps was spotted leaving The Body Well gym in West Hollywood, CA on Tuesday(January 22).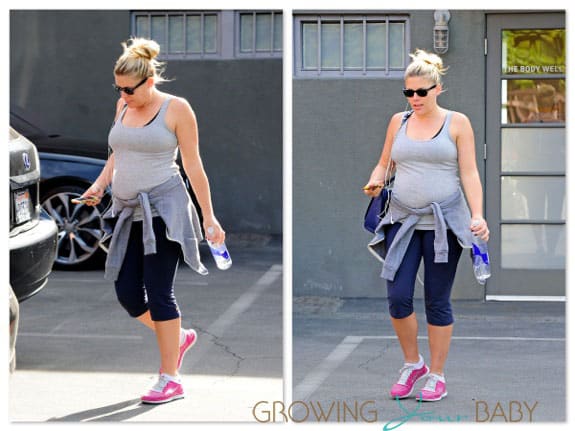 Pregnant with her second child, the actress looked comfy in a grey tank, navy yoga pants and hot pink shoes.
Despite the pressure Hollywood often puts on its new moms to get back in shape, Busy told the Huffington Post that moms should be able to take their time "bouncing back" after giving birth.
"Like most things in this business, I think that you have to do what's right for you and you can't be too concerned about what some magazine is going to write about you," Philipps told HuffPost Celebrity.

"We're in a business where a lot of people are blessed with pretty incredible bodies, that they work hard for or comes naturally, and not everybody has the same body."
Busy admits that it took her almost a year to drop the weight she gained while carrying her daughter Birdie, 4.
"I find it to be strange that people get obsessed about how fast actresses and celebrities are taking off their baby weight. I guess people like to look to them and feel better about themselves or feel worse about themselves."

"It's interesting when people make comments about celebrities' weight gain or lack of weight gain as if they're a medical professional that's treating that celebrity. Like, 'This doctor does not treat Jessica Simpson, but thinks her weight is unhealthy.' If you don't treat her, then how do you know?" Busy said, adding, "I do think moms should be given a break, all across the board. And I think that the most important thing is that you're healthy. After I had my little girl, I wanted to be healthy for her and have a healthy body image so that she hopefully grows up to see that her self worth isn't defined by how thin she is."
---
{SPLASH}
---
[ad]