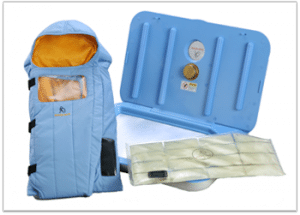 In parts of the world where costly incubators and medical technology is still not available to save precious preemies, a simple infant sleeping bag developed by an organization is helping save these lives in a cost effective manner.
Embrace is a social venture started by Jane Chen who moved to India in 2009 after she became aware of the large number of infant deaths that were caused due to unavailability of incubators and costly medical technology in small villages
Chen started her organization and developed an infant sleeping bag that could be heated with the help of a wax like material, which can help maintain the body temperature for hours. The sleeping bag was simple to use, affordable and very effective in saving baby's lives.
Last year, Embrace began distributing the products throughout Southern India, and started small-scale projects in Somalia, China, Zambia and Uganda. Chen estimates the group has helped 2,000 babies to date.
"The goal behind this is to help the 20 million vulnerable babies born every year who are so tiny they can't maintain their own body temperature," Chen told the SFGATE.com
The organization estimates that about 4 million of those preemies will die within a month of being born, resulting in about 450 deaths every hour on an average. The babies who survive have other problems like diabetes, heart diseases and diminished intelligence.
Embrace is to be honored for their humanitarian work during this year's Tech Awards, sponsored by the Tech Museum of San Jose. The recipients will be honored on Nov. 15 at the Santa Clara Convention Center, where two cash prizes will be awarded in each of six categories, for $25,000 and $75,000.

Chen says the organization plans to use the money to distribute more infant warmers.
"It breaks our heart that we get so many requests from people all over the world," she said. "We really want to get this out there to help the babies who need it the most."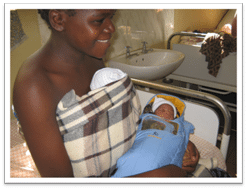 In developing nations many babies are born underweight because of lack of proper nourishment in their mothers during pregnancy. There are many who are also not able to get proper prenatal care.
Premature babies, who are underweight do not have enough body fat available to regulate their own body temperatures. The World Health Organization says that in the absence of incubators, mothers can keep the babies as close to their chest as possible for long hours to give them the warmth. But again in poorer families, mothers often have other obligations and other children to look after.
Chen and her colleagues, Rahul Panicker, Naganand Murty and Linus Liang first thought of the infant warmer in 2008 as part of their Stanford University project that challenged students to develop an incubator for 1 percent of the usual $20,000-plus cost.
The idea clicked and by 2009 the team moved to India to use the blankets they had designed. Embrace Innovations in Bangalore manufactures and sells the product to those that can afford it. The nonprofit side of the organisation is based in San Francisco, raising funds to donate the product to the neediest communities.
This "social enterprise" model allows the organization to "leverage both private and philanthropic capital to more effectively save lives, and to hopefully … become sustainable in the process," Chen said.
The warmer has two parts, the BabyWrap like a sleeping bag that can be easily washed and reused and the WarmPak that slides inside the wrap and has a material that when heated stays in a phase which remains warm for long duration. There are also two versions of the product, one for clinical use and one for home use.
Dr. Vinod Bhutani, professor at the Stanford School of Medicine focused on neonatal care, has served as a mentor and unpaid adviser to Embrace. He has studied the product and says it is as effective as a radiant warmer used in hospitals as long as the babies are not severely ill.
The organization is now selling the products to hospitals, clinics, government and non-government organizations. They say that the challenge also is to convince care givers that the product works.
They are also trying to develop other products that are affordable and can be used to save infant lives.
Chen stresses that apart from the obvious benefit of saving infants, the warmer also has other advantages. In countries where mothers are directly blamed for a male child's death, the warmer is helping empower women.
Previous research has noted that when infant mortality rates decrease, the population also stabilizes. Doctor and statistician Hans Rosling says that nations' birth rates decline over time as child survival rates increase.
"The only way of really getting world population (growth) to stop is to continue to improve child survival," Rosling said in one presentation.
The World Bank has also said that when parents are sure of the survival of their offspring the birth rates drop. Thus Embrace is helping achieve a bigger goal too.
"This is one of the shining examples of social entrepreneurship, of developing affordable ideas and understanding the complexities of how we can not only save lives, but actually change lives," Bhutani said.
The infant warmer is a simple solution to a critical problem.
---
[ad]