America is a very special miracle baby, born to immigrant parents in Indiana. She was born at just 24 weeks gestation and weighed only 11 ounces. Doctors gave her only a 10% chance of survival at birth, but little America had other plans.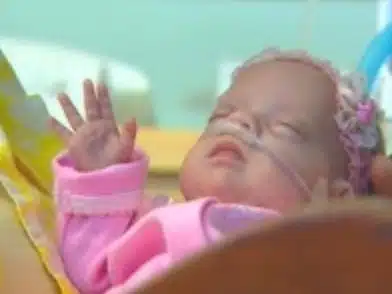 Her mother had problems with her placenta, which was not growing. Usually, this problem results in fetal death, but little America truly is a miracle baby. She grew to five times her birth weight in just three months. While she still needs extra help with breathing, doctors think that 3 pounds 11 ounces America will be ready to go home with her family in just two weeks.
While the placental condition had been diagnosed by ultrasound, Clara and Jose had no idea that she would come so early or be so small. In fact, America is just shy of the world record for the smallest surviving baby, who was born in Chicago weighing in at 9 ounces.
America's doctor, Dr. Soloveychik, says that America is the smallest baby he has ever had survive, and he keeps her birthday photo on his cell phone. He also stated that she has no neurological issues from her early birth and is tiny in size. According to Dr. Soloveychik "She is a miracle, She's America." We have to agree, what a fitting name for such a strong little girl. – Jill, Staff Writer
Related Articles: