A New York family has a simple wish; more time and prayers to help them as they face a devastating diagnosis.
Kim and Phil Vaillancourt have been married for 15 years and have two biological children, 12-year-old Ryan and 11-year-old Hailey. As their kids grew older the couple realized they had room in their hearts for more. For the past three years, they have been fostering three sisters who came from a troubled home. Kamila (10), Josie (7) who was born without arms and legs, and Chalie (6) found a loving home with the family.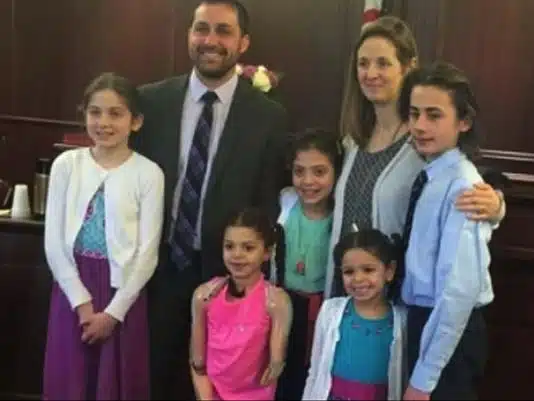 On December 23, the Vaillancourt's officially adopted the three sisters and were preparing to become a family of eight – because Kim was 20 weeks pregnant. It was a welcome and surprising pregnancy.
With so much goodness in their lives, it should have been a happy time. But Kim was suffering from terrible headaches and because of her pregnancy, she did something unusual and got checked out at the hospital. Doctors there delivered the worst possible news and a grim prognosis: Kim had two brain tumors, one on the right frontal lobe and the second at the base of her brain. This rare and aggressive cancer is called Glioblastoma.
Less than a week after the happy adoption celebration, Kim underwent emergency surgery at Buffalo General Medical Center. The tumors were successfully removed, but with this type of cancer, they often grow back in a span of 8 to 12 weeks. Normally a patient with Glioblastoma undergoes radiation and chemotherapy in an attempt to keep the tumors from returning, but Kim's first priority is her unborn child.
Dr. Ajay Abad is a Neuro-Oncologist at Roswell Park Cancer Institute. He is confident his team can help Kim reach her goal of delivering the baby, but she will have to undergo an MRI every two weeks to screen for tumors. She won't start chemo or radiation until the baby is born. Dr. Abad says they are in "a race against time."
Kim's cancer is expected to grow back and take her life. There have been rare cases where patients have lived 10 years with the disease but the life expectancy for a person with Kim's grade of Glioblastoma (grade 4, the most serious) is about one year, even with treatment.
Husband Phil is showing incredible strength, taking on a new role and preparing to be a single dad to six. He's caring for the kids, keeping up the house and fixing meals, paying the bills, and taking care of Kim while working full-time to support this growing family on one paycheck as a senior maintenance worker in the Town of Tonawanda's wastewater treatment plant.
Kim says she's "never seen anyone better. He has not left my side."
The older children are pitching in too, taking on more chores and helping where they can while trying to make sense of what's happening to their mom. Ryan says he knows it's happening for a reason, but he doesn't know what that reason is.
Their families, friends and the community is supportive, but this family's needs are great and will continue to be so in the future.
Kim prays for her baby, a boy due on May 16. The couple has already chosen his name: Wyatt Eli. She prays that her children will remember her. The last two post-surgery scans showed she is still cancer-free, and the longer the tumors stay away, the longer she can carry the baby.
She prays for peace to face what lies ahead.
She'd like to stay with Phil and her kids and live a long life, able to see all the milestones they'll have…big stuff, like graduations and weddings. But she is preparing for what seems inevitable, going home to be with Jesus. She says she has accepted that, and that Phil is the one who needs the prayers as he tries to hold everything together and juggle all the craziness.