Growing toddlers already have a lot to contend with as they begin to make sense of the world around them. Imagine if that development was compounded by a debilitating illness that requires daily trips to the hospital for medication and feeding through intravenous tubes. That is the exact plight of the adorable Tia Pugh. She is a brave three-year-old who is struggling with rare combination of immune deficiency and tuberculosis-like ailment. The only hope for Tia is a bone marrow transplant. The complications of finding a perfect match can be traced to Tia's special DNA.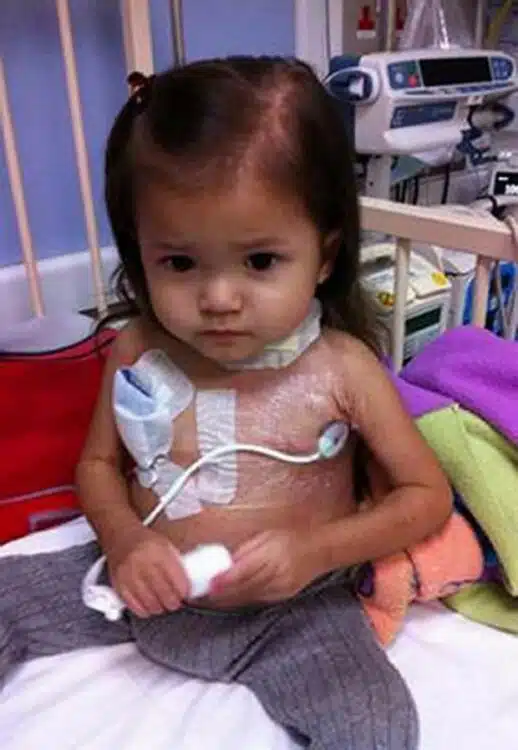 Tia's father was born in Worcester, UK. Her mother is from Cambodian heritage. As a couple, this sets up a challenging genetic match to find for Tia. That doesn't mean dad Nick is giving up hope.
"Tia is our darling little daughter and it is heartbreaking to watch her suffer like this," Nick told the Mirror. "Now that the doctors have identified what's wrong we can, at last, get moving on finding a cure. But we have to be quick, and that cure is out of our hands until we can find a match. All I can say to the people out there is please help us however you can, by signing up to register or setting up a recruitment event in your area. Think how you would feel if it was your daughter, or your son, and you needed a stranger to help them survive. Childhood is supposed to be full of fun and joy, and that's all we want for our Tia."
Nick, Yupa, and Tia's doctors are urging everyone to sign up to the bone marrow register. Specifically, they are looking for anyone of South East Asian or mixed-Asian heritage. In the UK alone, there are 1,800 patients every year waiting for a suitable bone marrow match. If that patient is of White northern European descent, then they have a 90% chance of matching up to a suitable bone marrow down. Those chances drop to 40% if the person is black, Asian or from any other type of minority background. Tia has spent months in and out of the hospital. She underwent a blood transfusion before she was two and doctors have tried various combinations of medicine to make her better.
Since she came into this world, little Tia has had to endure one treatment after another. In addition to those daily trips to the hospital, home health aides visit twice a day to administer much-needed antibiotics. Even with all she goes through, Tia's spirit hasn't dampened. She loves to sing and dance to Peppa Pig and the Muppets.
Henny Braund is the chief executive of a local UK bone marrow registry. She told the Mirror that, "Tia's situation is so difficult that it's hard to hear about. But it is precisely this kind of circumstance that Anthony Nolan was set up to help with. Over the last 40 years, we have seen thousands of caring, selfless people put their names on the register and thousands of lives have been saved as a result."
Here's what you need to keep in mind: The majority of donations are similar to the kind of outpatient appointment you would have if you donated blood. Translation: very little discomfort for a huge reward.
---