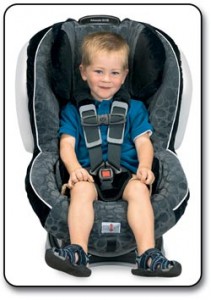 A new policy statement from the American Academy of Pediatrics (AAP) issues new guidelines for children and child booster seats. The new guidelines suggest that children stay in rear-facing seats until 2-years-old, rather than the standard 12 months.
The previous AAP guidelines recommended parents keep children in rear-facing restraints for as long as possible, usually until they outgrew the height and weight requirements for the seat. However, the minimum suggestions stated for a child to stay at least for 12 months in a rear-facing seat. Many parents and doctors used this minimum guideline as the standard age for making the switch from rear-facing to front facing.
This change to extend the minimum age to 2 years is based on much research on the safety of children in rear-facing and front-facing car seats. One 2007 study found that children under 2 are 75 percent less likely to die in a car crash if they are still sitting in rear-facing seats rather than front-facing ones. Other studies have also found front-facing seats to be less safe than rear-facing seats for young toddlers.
"A rear-facing child safety seat does a better job of supporting the head, neck and spine of infants and toddlers in a crash, because it distributes the force of the collision over the entire body," said Dennis Durbin, M.D., F.A.A.P., a pediatric emergency physician and co-scientific director of the Center for Injury Research and Prevention at The Children's Hospital of Philadelphia and lead author of the policy statement and accompanying technical report.
According to Ben Hoffman, M.D., associate professor of pediatrics at the University of New Mexico in Albuquerque, parents are often interested in the special milestones as their children age and grow. Moving from a rear-facing seat to a front-facing seat is one milestone that many parents look forward to. Front-facing seats make it easier for parents to see their children and connect with them while driving. However, safety should come first for parents of young children.
In addition to these recommendations the AAP also suggests parents delay advancing their children from a five-point harness to a belt positioning booster seat until the weight and height restrictions have been maxed out for their car seat.  Similarly they would like to see children in a  booster seat until they reach 4 feet 9 inches (roughly between 8 and 12 years) instead of basing the transition on the child's age and the law for a particular state.  Manufacturers are already following suit with seats allowing taller and heavier children to be protected by the five-point harness systems.  Be sure to check your instruction booklets for specific size restrictions on your child's safety restraint system.
The new guidelines for rear-facing restraints take effect immediately. The AAP suggests that all parents of children under 2-years-old make sure their children are still sitting in rear-facing car seats for their own safety and well-being. – Summer, staff writer
Related Articles:
 
---
[ad]