Cui Chenxi was a child heartlessly abandoned by three different families and left on the streets before he was finally picked by a loving family in China. The new adoptive parents though soon discovered that the baby boy suffered from a congenital heart condition and instead of disowning him, they spend all their life's savings to save the baby.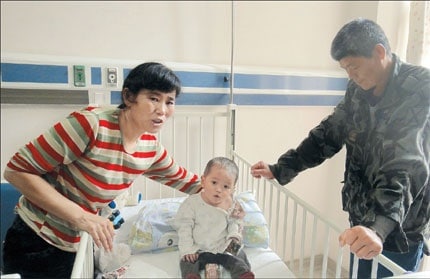 In February last year, Qian Fenglan, from Heze County in Shandong of China found the now 20-month-old baby boy lying on the ground near a village, covered with a bamboo hat. 47-year-old Qian and her husband always wanted a son and therefore thought the boy to be a gift from heaven.
"He looked healthy, but did not make any sound," said Qian. "Later I found his tongue was stuck to his lips."
They took the baby to the hospital and were shocked when the doctors recognized the baby boy and revealed he suffered from a rare heart condition.
"The doctors knew he was not my son because it was the fourth time they had seen the baby," said Cui Kaichun, the child's foster father. "Each time he was brought to the hospital by different people, and they all said they had found the baby on the street."
The couple however was not ready to give up as easily as the other families. They traveled all the way from Jinan, Shandong's capital city, to Beijing, and eventually to Shanghai just to seek medical treatment for the infant.
The treatment though came with a tremendous financial burden for the family, which they incurred by selling their house and using all the savings left for their daughter.
Later a Nongovernment Organization helped raise an additional 60,000 yuan (US$9,442) medical fee for a heart operation at the Shanghai Children's Medical Center.
The surgery was a success but doctors still believe that the baby will need intensive therapy to be completely fit and healthy. His foster parents now fear about the future medical expenses they might have to bear but are full of hope.
"His name is Chenxi, meaning 'morning's hope,'" they say. "Thus we will not give up hope that he will live."
Related Articles:
---