Abbott Laboratories Inc is recalling millions of containers of its top-selling Similac powdered infant formulas after beetles were found in the products and in a Michigan plant where they are made.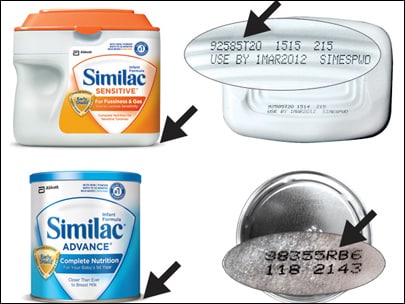 The voluntary recall follows reports by two consumers of contamination and its inspection of an area of the plant in Sturgis, Michigan, where beetles or their larvae were found. Abbott said "less than 5 million units" of Similac are being recalled in the United States, Guam, Puerto Rico, and other Caribbean markets.
"When we identified this, we did extensive testing of every product on the (factory) line, and more than 99.8 percent of the product was negative" for beetle contamination, said company spokeswoman Melissa Brotz. She noted that liquid forms of Similac have not been affected or recalled.
But all powdered product made on the Michigan factory line is being recalled due to the remote possibility of contamination, said Brotz.
"The U.S. Food and Drug Administration has determined that while the formula containing these beetles poses no immediate health risk, there is a possibility that infants who consume formula containing the beetles or their larvae could experience symptoms of gastrointestinal discomfort and refusal to eat," Abbott said.
The recall involves powdered Similac in plastic containers, and in 8-ounce, 12.4-ounce and 12.9 ounce cans. Other Abbott factories will step up production of powdered Similac, as well as liquid forms of the brand, to help meet consumer demand for infant formula until the Michigan plant soon resumes production.
Related Articles: