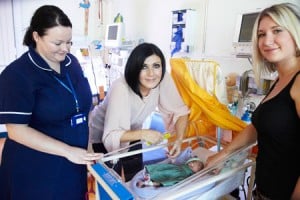 Kym Marsh, star of Coronation Street, spoke out this weekend about premature birth and the loss of her own premature son during the Bliss charity. She says working to help other families has helped her to recover from the loss of her tiny son.
Marsh's youngest son, Archie Jay, was born 21 weeks and 5 days gestation. The mother was in the hospital for 5 days while doctors tried to stop her early labor. The tiny baby was born and passed on only a few moments later. The agony of that time has stayed with the actress.
"It's hard to give birth and never hear those precious ­moments – the first cries a mother cherishes when their child enters this world," she said.

"To leave the hospital without your baby is even harder. It was the most painful experience I have ever gone through. Not a day goes by when I don't think of my beautiful son Archie.

"I will never forget him. I know I will take that pain of losing my precious Archie to my grave."
Archie was born in February, 2009, but Marsh spoke up about him this weekend when she attended the Bliss charity event. She has urged the government to do more to help premature births, which effect so many families and lives.
"There are tens of thousands of babies born prematurely in the UK. This is one of the ­highest rates in Europe and it is still rising. Yet still there is no ­accurate screen test ­available to ­identify women at risk. More needs to be done. It is just not good enough."
Marsh knows the pain of premature birth all too well. Her older son, ­David Ryan, now 15, was also born premature. She admits that she didn't handle Archie's birth, and loss, well. The event caused some strain between her and her partner, actor Jamie ­Lomas. The pair split, then reunited a short time after.
She added: "I realised I wasn't alone. I found solace and support speaking to mothers who had lost their babies too.

"And for Archie, I won't stop until more is done."
– Summer, staff writer
Related Articles:
---
[ad]