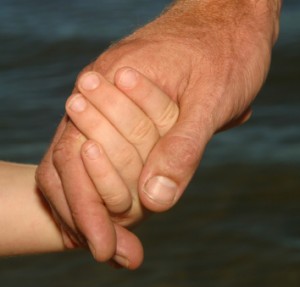 Around the US, and the world, there are many children waiting for an adoption day that may never come. For many families, caring for a special needs child means hours of hard work and thousands in medical bills. But for the parents that do it, the reward is greater than all the downsides.
Angela Kuhn, principal of the Illinois School for the Deaf in Jacksonville, felt drawn to the story of a deaf boy in Russia that was awaiting a home. She felt that with her background, adding the boy to the family would be an easy affair. Then they learned more. Colin, age 3, has mild cerebral palsy and neural damage. His care would mean more than the family was prepared for. Still, they continued the adoption.
"We thought we were adopting a child with special needs who would not be adopted otherwise. We thought it was meant to be," she said.
Adopting special needs children means that parents have to have additional training and meet additional requirements before the adoption is finalized. This means the adoption time can be longer, and more costly, than adopting a child with no special needs. However, when all the training means that the right family and child can come together, the results can be wonderful.
"It's amazing," said Elizabeth Gastelum of Springfield, Ill., who adopted two hearing-impaired children from Russia. "I wasn't prepared … you receive a lot of training about how they'll react and possible behaviors … the thing they don't train you for is how exciting and inquisitive and joyful it's going to be," she said.
Kuhn suggests that before parents begin the adoption process they learn as much as possible about the child's needs and disabilities. Parents should also look at what local services they have available to learn on when things get difficult.
In spite of the hardships, parenting a special needs child can be rewarding.
"Know it's not going to be an easy road but it's an enjoyable one," she said.
Elizabeth Gastelum and her family adopted two children from a Russian orphanage that were both hearing impaired. Because of their hearing loss, it was difficult to place them with adoptive parents. Now the two are thriving and soaking up as much of the world as they can.
"It's almost like they've been let out of prison. Every moment of every day is a new experience," Elizabeth said. That makes things "tiring, but exciting and joyful."
Safeguards are in place to protect families and children in the case of special needs adoptions. The US, and the states within, have specific requirements that parents must meet. In the case of adoptions from other countries, those countries also have their own requirements. In Illinois, for example, parents are required to complete additional training in various medical conditions and cultural issues.
Elizabeth Gastelum says parents need to have stamina and have your eyes wide open to go through these types of adoptions. Caring for special needs children is certainly not for every parent. Many who do feel drawn to children that need extra help are not in a place to be able to give them the care that they need.
"It's so personal. It's hard to tell somebody else they should do this, but I would do it again in a heartbeat. There's no question about that," she said.
Parents who have considered adopting special needs children and want more information have several websites that they can use. Special Needs Adoption, Children with Disabilities – Adoption, and the National Adoption Center are a few that are used. Parents can also turn to each other across the internet to offer support. When Christine Moers adopted two children with Reactive Attachment Disorder, she turned to blogs of families dealing with the same. She also began making YouTube videos to show other parents the therapeutic tricks she had learned.
Parents taking the difficult task of adopting special needs children may find they have a lot of support across the country. – Summer, staff writer
Related Articles:
---
[ad]