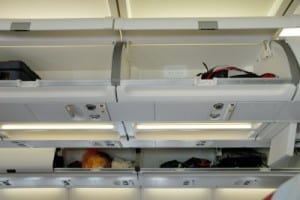 A Virgin Blue flight attendant was fired after allegations that he locked a small toddler in the overhead baggage compartment. According to the mom, the toddler is still suffering from anxiety from the incident months later.
A simple game of peek-a-boo turned shocking when a flight attendant stuffed a tiny tot inside the overhead baggage compartment on the airplane. Mom Natalie Williamson, her husband, and their son were on board the flight from Fiji to Sydney when the incident happened. Williamson is still shocked by the unprofessional actions of the attendant involving her young son.
According to the flight attendant, Williamson's husband was playing peek-a-boo with the toddler when he decided to join in. The toddler was placed inside the overhead compartment and the door shut. Little Riley was trapped inside for up to ten seconds before being released.
According to Williamson, the flight attendant put the child inside the compartment himself. Virgin has since terminated the flight attendant and offered Williamson free flights. However, she and her son are still shooken up by the event.
"My husband, Shayne, was standing one metre behind my son, Riley, when the air steward picked him up and placed him in the overhead compartment," she said.

"I stood up and there were people laughing and then I said 'Get my son out of there now'," she told the Sunday Herald Sun.
According to Williamson, she was informed by the manager that she needed to file a complaint about the incident, so that is just what she did. Virgin Blue then conducted an investigation of the flight and what exactly happened. Virgin took the incident very seriously during their investigation, but that hasn't helped little Riley who is still shaken by the ordeal.
"He won't leave my sight now. He sleeps with me. If I'm not in the same room as him, he will scream and yell 'Mum, mum, mum'," she said.
– Summer, staff writer
Related Articles:
SOURCE
Stock Photos from 123RF
---
[ad]