Undeterred by the media attention she has received about her post-baby shape, Indian actress Aishwarya Rai walked the red carpet looking beautiful at Cannes on Thursday and Friday evening.
Hitting the press line twice, Aishwarya was gorgeous in a gold embroidered Mandarin style jacket with a matching Sari while attending the AmfAR Cinema Against Aids gala on Thursday night.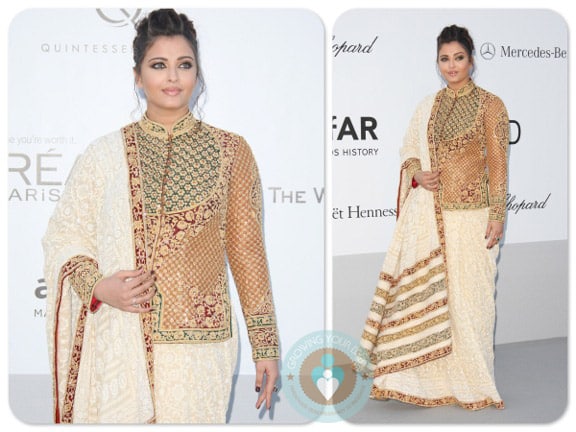 For the premiere of Cosmopolis, the Bollywood actress sparkled in a floor length navy gown that was belted with a matching flower.  Despite the fact that she has been met with criticism for not returning to a size 0, Aishwarya stood confident and even blew kisses to her fans.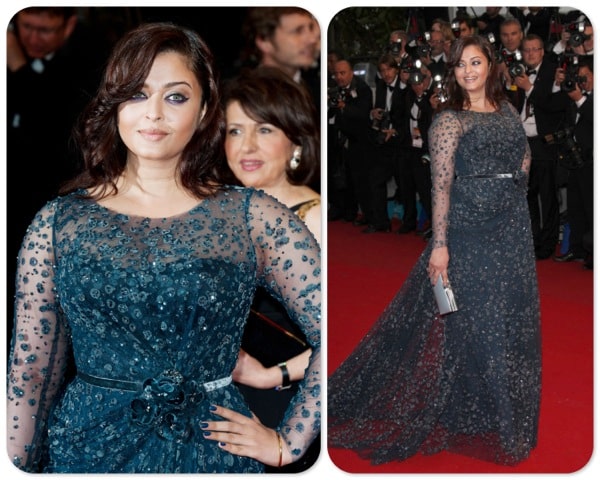 When asked about her six-month-old baby girl Aaradhya the new mom gushed saying,
(Motherhood) is wonderful. You ask the question and I beam!' she said.

'It's splendid… It's inexplicable.The joy, the bliss, is wonderful. A smile from my daughter and that's it! She's good. She's great.'
I applaud her for choosing to be a great mom to her baby as opposed to spending her days/nights with a trainer just to woo the media and watchers.  The world really needs to adopt better expectations for new moms – even when they are celebrities.
---
[WENN, PACIFIC COAST NEWS}
---
[ad]