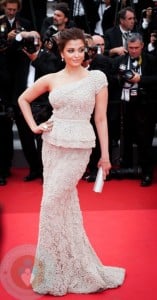 Former Miss World and noted Bollywood actress Aishwarya Rai is soon to appear on the red carpet of the Cannes Film Festival but her public appearance this time around is surrounded with controversy. The former supermodel who became a mom six months ago has yet to shed her pregnancy weight.
Aishwarya has always been seen at public gatherings in her lean avatar often being tagged as the most beautiful woman in the world. But after the actress gave birth to her baby girl last November, her fans were stunned to see her as a distant image of her former self. And even after six months, the new mom is still to shed the extra kilos she gained during pregnancy.
Born on 1 November 1973 in Mangalore, Karnataka, Aishwarya began her modeling career at school and at 18 she won the Ford supermodel contest. Soon television commercials followed and her biggest break came when she became the Miss World in 1994.
"That contest is seen as a bit of a joke in the west but Rai winning really mattered to India," said Rachel Dwyer, professor of Indian cinema at the University of London.
Moving from modeling to acting Aishwarya made her debut with a Tamil political thriller Iruvar, and followed it with many hits in mainstream bollywood movies. What made her an international name was not just the Ms. World title but the fact that she was not the typical Indian curvy beauty but a more westernized vision with a lean supermodel appearance.
"Most of the films she has appeared in – with a few exceptions – have been critically trashed," said film critic Mayank Shekhar. "Her prime talent – if not her only one – is that the west perceives hers to be the most beautiful face to have come out of India."

"She is an icon because of her extreme beauty," said novelist Kishwar Desai, "and also because she has broken through to the international market and that means a lot to Indians."
Julia Roberts was quoted as calling her the most beautiful woman in the world and her appearances in popular shows like The Oprah Winfrey Show and The Late Show with David Letterman only made her a globally known face. She also starred in Hollywood films like Bride and Prejudice and Pink Panther 2.
In 2003 Aishwarya was invited to join the Cannes jury alongside Steven Soderbergh and Meg Ryan but critics believe it was more of a marketing strategy than an actor's accomplishment. As the brand ambassador of L'Oreal' Paris, Aishwarya has been making appearances at the Cannes festival for 10 years now. Rai is said to earn more than $16m annually for endorsing such brands.
In 2007 Aishwarya married Abhishek Bachhan, fellow actor and son of Indian mega star Amitabh Bacchan.
"She had it all," said Desai. "Picture-perfect looks, winning Miss World and then marrying the most eligible bachelor in India by marrying into one of this country's most respected families: it is a fairytale life."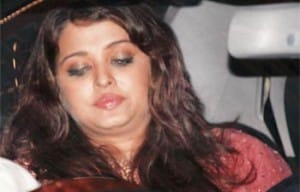 The image that really sparked the storm in global media showed Rai in the back of a car on her way to a party being thrown for the UN secretary general, Ban Ki-moon, where Ban is believed to have asked her to be the global face of the UN's girl child campaign. What turned eye balls was the fact that Aishwarya was seen with a notable weight gain and a probable double cheek.
The 38 year old was criticized immediately by some for not trying to shed the extra pounds.
One website posted a video, complete with elephant sound effects, entitled "Aishwarya Rai's shocking weight gain", which has been seen more than 500,000 times.
"She is a Bollywood actress and it is her duty to look good and fit," suggested one commenter. Another added, "She needs to learn from people like Victoria Beckham who are back to size zero weeks after their delivery."
What is actually of significance is that Indian society has seen some changes over the past few years with western influence and influence of Hollywood on the rise. The Indian market has become such a strong base for Hollywood that some movie makers are even releasing their latest movies in India prior to the worldwide release, like the James Bond movie last year and the upcoming Amazing Spiderman movie. What have also increased are the western concepts of beauty and celeb moms getting back into shape within months of giving birth.
"There is a glorification of motherhood in India and Indian cinema," said cinema professor Shohini Ghosh. "But people are confused because they don't know whether to glorify Aishwarya in her new motherhood or lament that she is not looking like a runway model."

"The role models being held up are Angelina Jolie and Victoria Beckham," said columnist Shobha Dé. "But our body frames are different – we have wider hips and curves – so this whole business of looking desperately skinny two weeks after giving birth is a western import."
Aishwarya's appearance at Cannes therefore might be the start of a new era where celeb moms are accepted for their charm whatever the body type, or it may be the beginning of more brick bats thrown her way.
As Shobha De sums up,
"It could be a turning point in making us stop and review the absurd expectations we have of our female celebrities. The timing is right for us to start learning to accept women with a few more curves and appreciate that gorgeous women do age," said Desai. "But the question is would Aishwarya want to age gracefully in front of us and will we let her?"
Strangely no one is commenting on the way the top actress has naturally molded into the role of a hands on mom who does not shy away from baby caring responsibilities after birth.
---