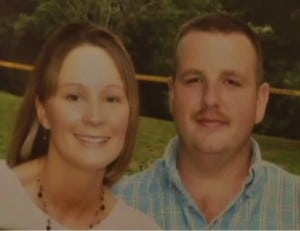 For Alabama mom Heather Caroll the journey from pregnancy to motherhood has been an incredible one. From the day it was discovered that she carrying sextuplets, Heather and her husband Mitchell knew it was not going to be an easy task, but five months and thousands of diaper changes later, the family is all smiles despite the daily challenges.
Heather had always wanted to have two kids but when a physical condition led to several miscarriages, the couple planned In-vitro fertilization. Soon they became parents to Grant who is now two years old. But it was the second pregnancy which brought the news of not one but six bundles of joy.
When Heather's scan revealed she was carrying sextuplet the would- be-mom who is just 5'2″ tall had to consume 6,000 calories each day just to keep them nourished.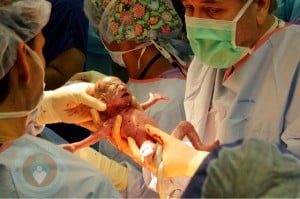 Finally in her 28th week of pregnancy, Heather delivered a boy and five girls over Father's day weekend at the Brookwood Medical Center in Birmingham.
She and her husband Mitchell named the six alphabetically, after the letters doctors gave them when they were still in the womb: Abbie, Brooklyn, Chloe, David, Ellie and Faith.
The eldest Abbie was born at 8.05am and the youngest, Faith, at 8.08am, and babies weighed between 1lb 10oz and 2lbs 5oz.
Just after their birth Heather said, "The babies look great. I was expecting them to be just real weakly looking and real tiny. They're not. They look wonderful.'
Gynaecologist Dr. Bill McKenzie described Heather as 'country tough' and said about the babies,
'All of them were born very healthy, and that weight spread is a good sign that there was not one baby that was lagging behind, that all of them had grown and developed well. I'm extremely proud of Heather.'
The Carrolls, who live in the tiny town of Plantersville in Dallas County, Alabama, then prepared for the challenges ahead of raising six little babies all at once.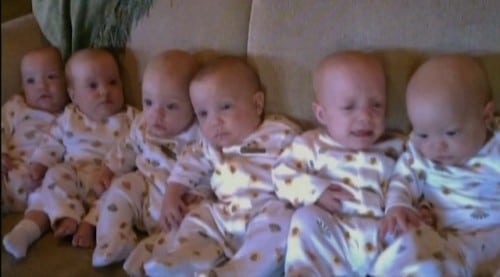 The family though got a lot of support from the local community and their friends and relatives.
They had somebody different coming each day to provide a helping hand and going through diaper changes and feeding sessions seemed easy. The tough task was to remember who's who. It was Mitchell's aunt who came up with an idea.
"My husband's aunt decided to paint their fingernails different colors to see who was who, and we still do that now for the help that comes," says Heather.
As the babies turn five months old, Heather says,
"I feel like I'm feeding all day long. We make 2 gallons of formula each day. We probably go through about 50 diapers a day.   But there are six very special reasons why all this work is definitely worth it."
She also says how the babies have begun to show their own unique character.
"Abby is the biggest we call her our chunky monkey.  Brooke has the most beautiful smile.   Ellie is going to be a talker.   David is very content, he could sit there all day.  Chloe is our drama queen, she will cry until she gets what she wants. Faith is the smallest one and she's going to be into everything ."
Unlike the public view of a household much similar to that of the reality TV show "Jon and Kate Plus 8", Heather believes her home does not match that image.
"People come by and expect constant crying and chaos.   Maybe around eating time a few of them will be crying but it's nothing like they made it look like on TV."
Asked if she would like to add to the family, she says,
"We may, down the road, think about bringing in an older child as foster parents but that's about it."
Right now the family's and the community's entire attention is to giving six little babies wonderful growing up years.
---
Related Articles:
---
[ad]