Mama-to-be Ali Larter was beautiful in a black embroidered Kimono dress while on the red carpet at the premiere of You are Not You at The Landmark Theatre in Los Angeles, California on Wednesday(October 8th).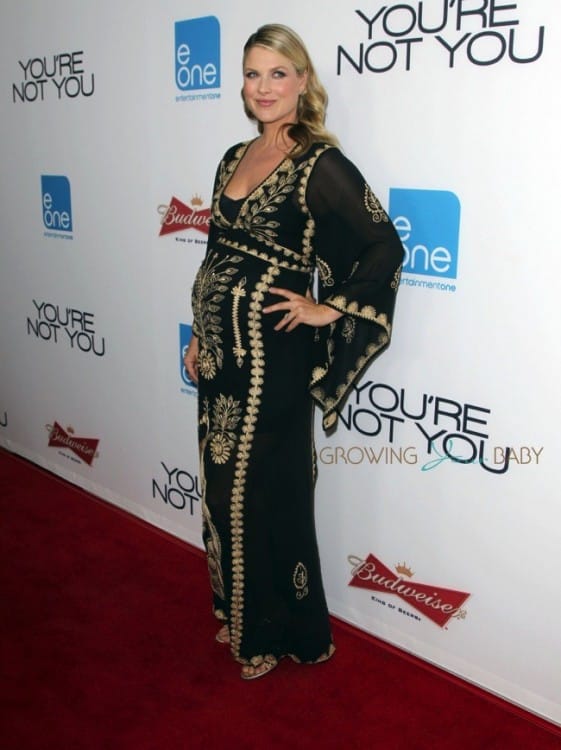 Ali stars alongside Emmy Rossum, Hilary Swank and Josh Duhamel in the drama that 'centers on a classical pianist who has been diagnosed with ALS and the brash college student who becomes her caregiver.'
Now in her second trimester the actress recently revealed that she's finding the pregnancy a much smoother ride.
"When you're in your second trimester you feel so much better so that's great. The nausea is over and now I'm not as starving as I was in the beginning. It was literally like a pack of wolves chasing down dinner everyday! So now I'm a little more in control, but I've just been enjoying it," Ali told OK Magazine.
Already mom to Theodore, she said that he is excited to be a big brother.
"We're just really excited to grow our family. He is, he has been amazing. I am all about this four-year age split between the two because he really understands and we're able to make it really special for him. And he feels that he's excited to be able to guide the way and be a really good big brother and so that's what we're thrilled about."
Ali has been very busy lately promoting her projects, but she has plans to put her feet up at the end of the month.  With the baby not due until closer to the end of the year, she will have lots of time to prepare for his or her arrival!
{FAME/FLYNET}
---
[ad]