Actress Ali Larter was photographed heading to the doctors with her son Teddy in LA yesterday.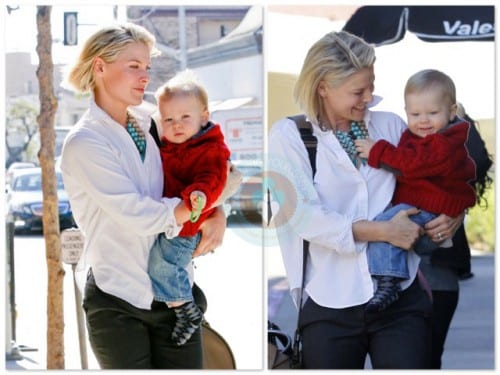 Not camera shy, Teddy was all smiles while bundled in a festive red sweater and blue jeans. Ali looked beautiful in a white blouse, dress pants, a tiered turquoise bubble necklace and matching pumps.
On Tuesday Teddy with be a year old! Ali recently told People magazine they are planning a very special party for his birthday.
'We're doing a big one on the actual day in Chicago where my husband's family is, and we'll do a mini one with my family."
Guests should expect it to be a lively affair,
'He's so musically inclined — he loves his music class." she said "I think we'll do something with lots of drums, tambourines and guitar. Something jammin'.'
---
Related Articles:
{WENN & FAME & SPLASH}
---
[ad]