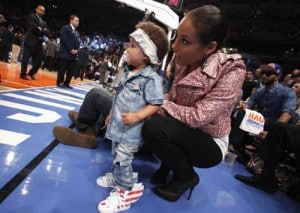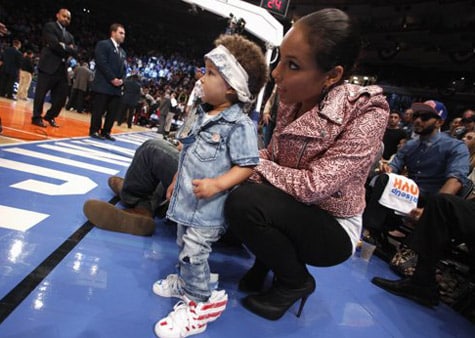 Alicia Keys certainly has her hands full! In October of 2010, she and her husband, 34-year-old Kaseem Dean, otherwise known as hip-hop producer Swizz Beatz, welcomed their son, Egypt Daoud Dean into the world. Yesterday the singer previewed her newest album, "Girl On Fire," which features a now 2-year-old Egypt crooning on the track, "When It's All Over."
"[It] is so beautiful because the chorus goes 'When they lay me down and put my soul to rest, when they ask me how I spent my life, at least I got to love you.' And that I feel about my husband, that I feel about my son," the 31-year-old singer told "Nightline" anchor, Cynthia McFadden.

"What happens is you just kind of turn into a syrup," Alicia also said about her son in the interview.
But Egypt is definitely your typical toddler. Alicia admitted that he's a handful.
"I think that he is a really independent, strong minded, really vivacious, incredible personality, and that's just kind of his character," Alicia told McFadden.
Alicia also gets to spend time with children from Kaseem's previous relationships. She says she enjoys being a part of their lives and loves the blended family she and Kaseem have together.
"There are often times children from past relationships and you are able to, I think, become stronger for it, you're able to become more loving for it," the singer said. "So three brothers and a sister and the way that they love each other, it's crazy, it's really special."
But Alicia and husband Kaseem aren't planning to add to their family just yet, which is quite understandable, considering all the singer has going on right now.
"I would love to have some more, definitely one more for sure," Alicia said. "At least one more, but I have to finish this album, I have to finish this tour, I have to finish this stuff first because – the juggling, is something."
So how does the singer manage all she's got going on? Alicia attributes much of her success in life and in music to her mother.
"I grew up with my mother, who was my everything, and a single parent, and she had to work her behind off, you know, to survive in a city," Alicia shared. "And that's what I've seen my entire life, is a specific work ethic that has been, you know, necessary. And she also instilled that in me as well because being a young girl and growing up in the city, you have to be busy, you know, or you're going to get lost."
Related Articles:
---
[ad]