Alison Sweeney shows of her newest addition Megan Hope in this week's issue of People.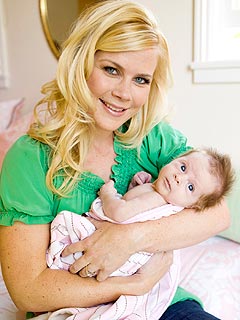 Megan arrived on January 12th weighing 6 lb 7 ozs.
The Biggest Loser Host wasn't due to deliver that day, but her doctor saw something that alarmed him and had her induced.
Now that everyone has settled in Alison Say, little Megan already has her dad "wrapped around her little finger." Not to mention her big brother, Ben, 4: "He pets her on the head and calls her cutie-pie!"
Megan's nursery is decorated in pink and brown tones with sage green accents, a feminine chandelier, and traditional Bellini furniture. Tradition, too, dictated Megan's name: "There have been a lot of quirky, unusual celebrity baby names. But we wanted people to be able to spell it. We wanted it to be more timeless," she tells the magazine.
To lose her post baby weight Alison has been using a Wii Fit with a new fitness program, called EA Active, and has been following its lead to help bust her baby weight.
"When do I have time to go to the gym?. It really is like a personal trainer in a box. It's perfect. I recommend it to all mothers!"
For more pictures and the full interview pick up a copy of People Magazine
---
[ad]