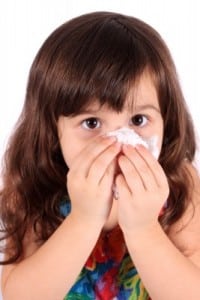 During a recent study, researchers found that children are at a higher risk for developing allergies if their same-sex parent also has allergies. This applied to other immune system conditions, like eczema and rhinitis.
For the study, researchers used data from the Isle of Wight Birth Cohort Study, which included information on nearly 1,500 children. Children from this study received examinations at ages 1, 2, 4, 10 and 18. Questionnaires on allergies and asthma were given to parents at each of these visits. Starting at age 4, the exams also included skin prick tests on 14 common food and airborne allergens. At ages 10 and 18, blood samples were collected to measure Immunoglobulin E, an antibody often screened for when testing for allergies. Other tests conducted included spirometry and bronchial provocation tests.
Parents of the children also received testing. Various tests, such as the Immunoglobulin E test, were conducted to help determine whether or not either parent had any allergy issues.
After analyzing all of the data, researchers found that maternal asthma increased the risk of asthma in daughters, but not in sons. The same was true when reversed: paternal asthma resulted in an increased risk of asthma in sons, but not in daughters. Researchers also found that this link remained when analyzing other types of immune system conditions, like allergies, eczema and rhinitis.
"Similar trends were observed when the effect of maternal and paternal allergic disease was assessed for childhood atopy and when maternal total IgE levels were related to total IgE levels in children at ages 10 and 18 years," said Professor Hasan Arshad, a consultant in allergy and immunology at Southampton General Hospital.
Arshad and his colleagues suggest that the findings may change the way that childhood allergies are both assessed and prevented. For example, when trying to diagnose a child for allergies, it may be helpful to determine if the same-sex parent of the child has allergies.
The study, published in The Journal of Allergy and Clinical Immunology, may also open the door for other studies that examine sex-dependent effects in hereditary diseases, with the hope and maybe even the possibility of one day preventing them altogether.
The Isle of Wight served as an ideal location for conducting a study such as this because it most of the participants stayed on the island for the entire duration of the study. This made them available for all of the follow-up visits.
Related Articles:
Image credit: gvictoria / 123RF Stock Photo
---
[ad]