Alyson Hannigan and her husband Alexis Denisof were spotted out for a stroll with their two girls after stopping by the Brentwood Country Mart on Sunday.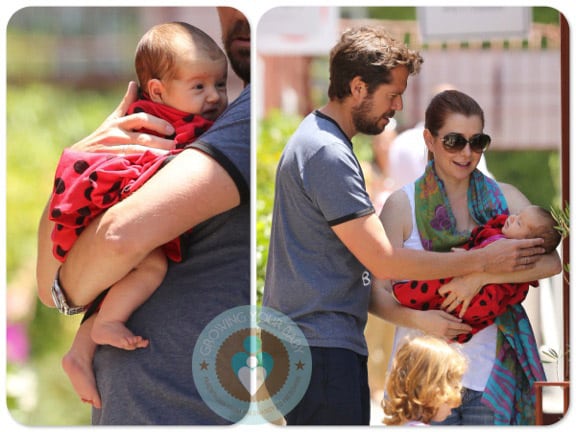 Born in May, we haven't seen much of baby Keeva, but she made an appearance yesterday, wrapped in a ladybug blanket! Alyson and Alexis took turns cradling the infant and chasing after Satyana.
Ensuring that Satyana doesn't get left out, Alyson has spent a lot of time lately doing one on one activities with her. On Saturday they spent the afternoon at the spa getting mani-pedis and were out shopping together on Thursday and Friday.
It won't be long before the new mom will have to head back to work. Her hit show, How I Met You Mother will likely start filming it's 8th season in a couple weeks. But until then it looks like she is enjoy some time off with her beautiful family!
Alexis pushes Keeva in a limited edition all black Quinny Buzz stroller.
---
{SPLASH, PACIFIC COAST NEWS}
---
[ad]