While travelling to the UK this week, without her baby, Alyssa Milano allegedly had the breast milk she had pumped for her baby confiscated as she went through security.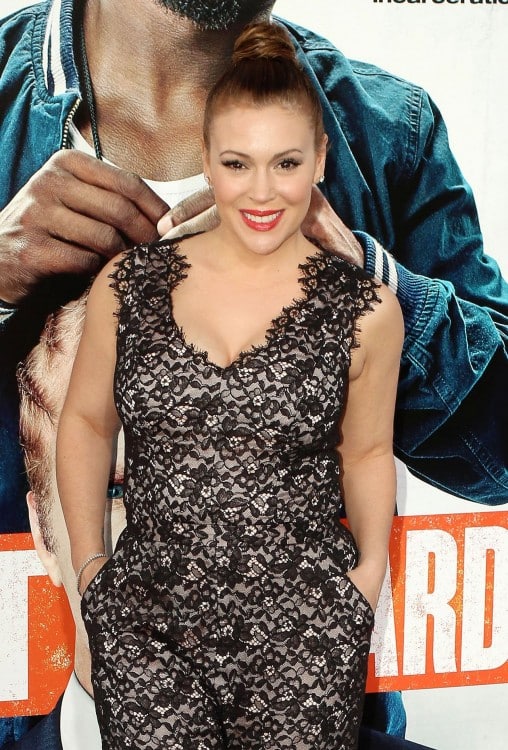 Not happy, she documented the ordeal on Twitter, and even sparred with Heathrow Airport Officials over their stringent policies.
(1 of 2) @HeathrowAirport just took my pumped breast milk away. 10 ounces. Gone. Not okay.

— Alyssa Milano (@Alyssa_Milano) April 9, 2015
(2 of 2) They said they would let the pumped milk through if I had the baby with me. Why would I need to pump if I had the baby with me????

— Alyssa Milano (@Alyssa_Milano) April 9, 2015
The airport responded to the tweet
@Alyssa_Milano Hi Alyssa. Unfortunately, without a baby present, the government requires all liquids in carry-ons to follow the 100ml rule.

— Heathrow Airport (@HeathrowAirport) April 9, 2015
On their site the airport notes:
"If you are travelling with a baby or infant you can carry a reasonable amount outside of your liquid bag for your journey. To assist security screening, please do not carry these items in a flask. If you are not travelling with a baby / infant all your liquids must comply with the 100ml rule(3.4 ozs). Spare supplies should be packed in hold baggage."
Not giving up the actress argued that she would have spread the milk across a couple containers to comply to those liquid rules.
"Instead, milk was taken away with no discussion. Shampoo, lotions, etcetera were simply tested and handed back with no issue. Makes no sense at all. "
The airport held firm that if she wasn't travelling with a child, she could only have 100mls total with her – referring her to their site that notes the policy above.
To make matters worse her Medela hospital grade pump, which retails for $1600, was not in her bag when her flight landed.
"PPS. I travel w/ a portable Medela breast pump on the plane. Hoping this is just a weird coincidence but my other breast pump that I checked w/ the rest of my baggage… is lost. Everything arrived at my final destination except my hospital grade breast pump. Filling out a lost baggage claim now."
To say it was a bad experience all around – would be an understatement.  But I love that she made the conversation public so that other moms could learn from the whole ordeal.
Regardless of its value – airlines see breast milk as a liquid, and each individual is only allowed a small amount when they fly.  Those rules are more lax when you are traveling with a baby, who will need special food during the flight, but even then some parents have been forced to leave items behind when it is believed that it is more than a 'reasonable' amount.
---
[ad]