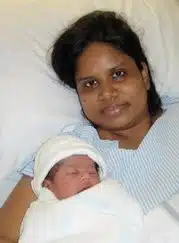 Durga Thangarajahhas been hailed as a "miracle" after she survived a full-term pregnancy outside the womb.
The little fighter was delivered by caesarian at Darwin Private Hospital on Thursday, after spending almost nine months growing inside her mother's right ovary — stretching the organ's tissue as thin as paper.
Obstetrician Dr Andrew Miller said the chances of a foetus lodging in an ovary were one in 40,000 but that the chances of such a pregnancy producing a healthy baby were almost nil.
"It's an extraordinarily unusual outcome and I am not aware of anyone who has seen a (full) term ovarian pregnancy as we have here," he told AFP.
"I deliver anything up to 520 (babies) a year here privately and I've never seen anything like this before."
An ectopic pregnancy, in which the foetus develops outside the womb, usually involves the fertilised egg lodging in the fallopian tubes which link the ovaries to the uterus.
The condition places the woman's life at risk because of the likelihood the foetus will cause a rupture resulting in pain and blood loss, and is usually resolved by a miscarriage or termination.
The mother, 34-year-old Meera Thangarajah, condition was not known because she had not had early pre-natal scans and had had a trouble-free pregnancy.
The doctor believed that he was going to deliver the baby normally from the womb and then remove a large 'fibroid' which scans had detected.
It was only after he made the incision that he released that what doctors had misdiagnosed as a fibroid, an overgrowth of the muscle of the womb, was in fact the mother's womb and the baby was in the ovary. "And you can't believe that the baby, just by normal movement and that, wouldn't have caused the sac (inside the ovary) to rupture. It was so paper thin you could see the baby's hair and so on," Miller said.
When my son was in the NICU, the nurses told me about a baby born at that hospital under the same conditions. That baby was a legend at our hospital as I am sure this baby will be at this hospital. Congratulations to this family on a safe delivery.Related Articles:
---