To kick off American Girl's 25th birthday celebration, the company is debuting Kanani Akina, the 2011 Girl of the Year®, whose story takes place in the lush tropical paradise of Hawai'i. Kanani loves her town's beautiful beaches, tropical sunsets, and fun lu'aus, but most of all, she and her family love sharing the aloha spirit—a desire to welcome and care for others with an open heart. Through Kanani, girls will discover that everyone has something to share that can make life better for someone else.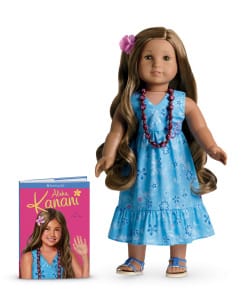 Only available for one year, the beautiful 18-inch Kanani arrives in an ocean blue, floral-print dress with a sequined appliqué and a ruffled hem, a faux hibiscus flower to wear in her hair, a traditional Hawaiian necklace made of pretend kukui nuts and bright blue ruffled sandals.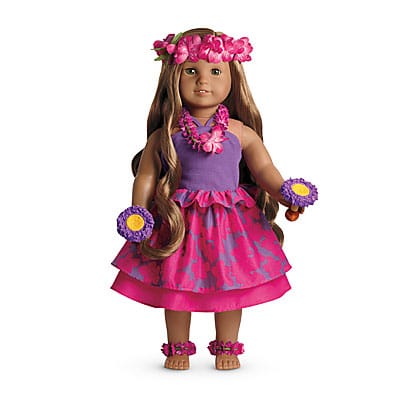 She will be introduced with two books that tell her story and an array of outfits and accessories such as a paddleboard set, a plush Hawaiian monk seal, and a shave ice stand!
The 2011 Girl of the Year books—Aloha, Kanani and Good Job, Kanani—introduce readers to Kanani and her small seaside town on the island of Kaua'i. Kanani loves working in her family's shave ice and sweet treats store, as well as sharing the wonders of Hawai'i with visitors. Whether she's making her cousin from New York feel welcome on the island, helping rescue a baby Hawaiian monk seal, or assisting older people in her community, Kanani learns that by sharing herself and her home in the true aloha spirit, she is able to make life better for others. The back of each Kanani book features profiles of real girls who, like Kanani, discover the joy of helping others through their gifts and efforts, however small.
American girl fans can check out their website for more information on Kanani!
Related Articles:
---