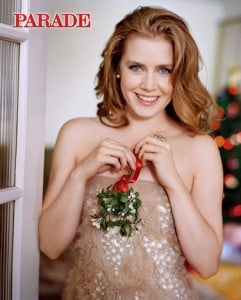 Amy Adams has a lot to be thankful about this holiday season. The actress is featured in the new film starring Christian Bale and Mark Wahlberg, The Fighter, which was just released earlier this month.
However, it is being a new mommy that has her focus this Christmas. The actress welcomed her first child with fiancé, Darren Le Gallo, Aviana Olea Le Gallo, on May 15th, and now she is preparing for her first Christmas as a mother.
In a new interview with Parade Magazine she talks about first realizing she was pregnant,
"I saw almond milk in the fridge–Darren drinks it, but I'd never tasted it–and it triggered an animal response. I was like, 'I need that,' and I drank the entire carton in 10 minutes. I looked at Darren and said, 'I think…yeah, I'm pregnant.'"
She also spoke about how the way she looks at her body has changed since Aviana entered her life,
"Being pregnant finally helped me understand what my true relationship was with my body–meaning that it wasn't put on this earth to look good in a swimsuit. I was like, 'Look, I can carry a baby! I'm gaining weight right, everything's going well.' And I've had that relationship ever since."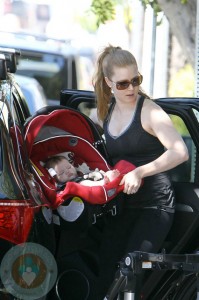 Now that she is a mom, Amy has applied this change in thinking to her post-partum plan.
"I've been working out when I can … but losing weight is not my number one priority," she says. "It's part of my job to return to some semblance of what I was before. But I don't feel I've ever made my career on my rockin' bod."
You can read more about Amy's career and baby Aviana in the new issue of Parade Magazine.  The Fighter is now on theaters.
Related Articles:
---