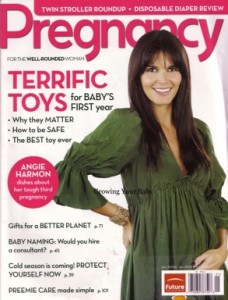 Sporting a tiny bump, Angie Harman talks to Pregnancy Magazine about her difficult pregnancy, cravings and parenthood.
The mom-to-be, who expects her third baby this winter, tell the magazine that her husband, Jason Sehorn, is the best baby nurse. 'When the baby starts crying, he doesn't just lie there and snore. He gets up and makes himself useful'
Here are more highlights from the interview:
How has this pregnancy been going?
Let me tell you, when you are pregnant with the first one, it's great of course, and all new and "Yay!" With the second one it's still OK; you can pay attention to number on and she can share in the joy of the pregnancy. I remember how I used to sit in the bathtub and have [my first daughter] rub my tummy. I loved that!

But this third one has been horrible! First of all, I've had morning sickness. Hellooo! And then I got anemia, which was new and horrible. And then I tore a disc in my back. So with this pregnancy I have not had two good days in a row;talk about frustration. And you can pile the quilt of not being able to take care of the other kids like I like to right on top of that. Thank God I am getting a baby at the end of this, because if I wasn't I'd be insane right now!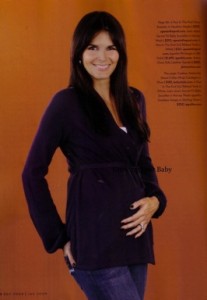 How have your deliveries been?
Well, the first one was breech, and the second one was sideways, so I have had 2 cesareans so far and am planning a third – but I am totally fine with it. I learned a long time ago that it doesn't make me less of a woman because my babies come out of a different place. Me C-sections have been fine. They don't cut through the muscle anymore so the recovery time is quick. It's not like back in the old days when they used a rusty saw. We've actually made medical strides.
What foods have you craved most during your last few months?
Normally, I'm a salty-food person. I love potato chips and spicy things like Bloody Mary's. But since I got pregnant, I've been going all in for chocolate and sweets. Yesterday, I mowed through half a bag of Trader Joe's chocolate chips. Now, this isn't like some gourmet chocolate or anything. I think it's like 100% sugar! I've also had a hankering for real thick heavy beer. Maybe the baby's got some German in its blood.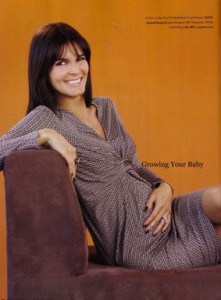 What's your favorite thing about being a mom?
My favorite thing is watching the kids when they don't know I'm watching them, when I can step outside the parent role and just look at them like little human beings. I'm so amused by their actions.
To read the rest of the interview please pick up a copy of this months Pregnancy Magazine
---
[ad]