The baby bottle 'leaching' issue has just gained a bit more credibility after a study released in Toronto finds "significant" levels of bisphenol A in bottles that were heated.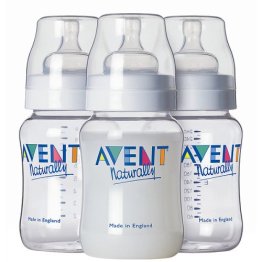 In the study, nine different plastic bottles from three major manufacturers were heated during testing and leached levels of the chemical that ranged between five and eight parts per billion.
Research suggests that even lower levels of exposure to bisphenol A, which acts like the hormone estrogen, can alter cell function, said Rick Smith, executive director of Toronto-based Environmental Defence, which released the study.
"There's increasingly strong evidence that this chemical can be linked to thyroid problems (and) different kinds of cancer including breast cancer in women, so the fact that we're actually feeding it to our babies – the implications of this are mind-boggling," said Smith.
The bottles – produced by Avent, Gerber and Playtex – were sent to the University of Missouri-Columbia for testing, filled with water and heated in an oven at 80C to simulate how the plastic would react to dozens of washings.
I hope that the increased amount of press this issue is getting will help parents realize that more research is needed before buying your newborn's bottles.
There are a lot of companies producing great bottles that will give parents piece of mind and allow their infants to get the full nutritional benefit without the side effects.
Related Articles: