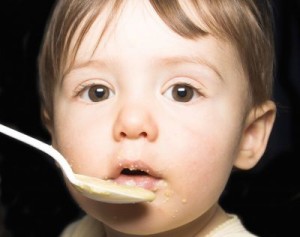 A new study out of Alberta claims that baby and toddler foods sold in most supermarkets contains far too much sugar, something that could be setting children up for bad eating habits for life.
Researchers from the University of Calgary in Alberta, Canada, studied 186 different baby and toddler foods that are sold at most supermarkets. Of the foods tests, more than half contained excess amounts of sugar. About 53 percent of the foods had more than 20 percent of their calories coming from sugar alone.
The study looked at foods that are typically considered healthy, as well as foods commonly thought of as treats. Fruit bars and snacks, as well as cookies and desserts for toddlers. Baby food products were also studied, except for simple purees of fruits and vegetables that are known to be safe.
Of the foods, 40 percent had sugar or a sugar product listed as one of the first four ingredients on the label. This included sugary sweeteners such as corn syrup or cane syrup.
"This draws attention to the, perhaps obvious, need to carefully examine the ingredient list," University of Calgary Professor Charlene Elliott said. "While some products derive their sugar content from naturally occurring fruit sugars, many products also contain added sugars. It remains fair to ask why it is necessary to add sugar to these baby or toddler products in the first place."
Many parents assume that foods marketed to small children are healthy and perhaps healthier than similar foods for adults.
"There is a presumed halo effect around baby and toddler foods because people expect these foods to be held to a higher standard. Yet this is not necessarily the case." Elliott said in a news release.

Baby and toddler foods studied with the highest percentage of calories from sugar:
Graduates for Toddlers Mini Fruit, Apple, by Gerber, 80 per cent
Little Fruit, Strawberry Banana, by Parent's Choice, 80 per cent
Organic Apple Banana Prune Blend for Toddlers, by President's Choice, 80 per cent
Organic Unsweetened Apple Apricot Blend for Toddlers, by President's Choice, 80 per cent
Toddlers 100% Real Fruit Snack, Banana Mango, by President's Choice, 80 per cent
Unsweetened Apple Pear Blend for Toddlers, by President's Choice, 80 per cent
Fruit Medley Dessert, by Gerber, 75 per cent
100% Fruit Bites, Banana Strawberry, by Heinz, 69 per cent
100% Fruit Bites, Tropical Blends, by Heinz, 69 per cent
Apple Plum and Raisins, by Heinz, 69 per cent
Guidelines for food products consider anything with more than 20 percent of it's calorie content from sugar to be of poor nutritional quality. This does not look favorably on foods that are marketed to infants and toddlers, especially as some researchers say eating habits begin very young. – Summer, Staff Writer
Related Articles:
---
[ad]