Did you know that approximately 68% of women are calcium deficient? Meeting the recommended 1000 mg of daily calcium needed during your pregnancy is even more important because baby's bones, teeth, heart, nerves, and muscles depend on calcium for growth.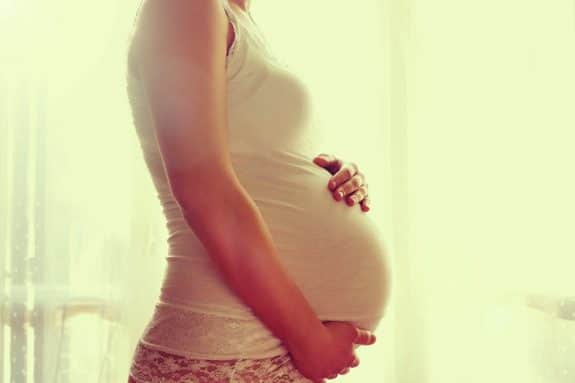 Because your body is designed to protect the baby, it will start drawing the calcium from your bones, which puts your health at risk.
For years, one of my favorite ways to ensure I am meeting my daily calcium needs is with Viactiv's Calcium Soft Chews. No chalky, hard to swallow pills here. These chews come in milk chocolate or caramel flavors, and just two soft chews have 100% of your daily recommended calcium, plus Vitamin D and K. And they are good. I promise. They are each individually wrapped so I just keep them in a little bag in my purse and take one in the morning and before dinner.
Having them with me reduces the chances I'll forget to take them and because I actually like their flavor I have integrated them into my daily routine.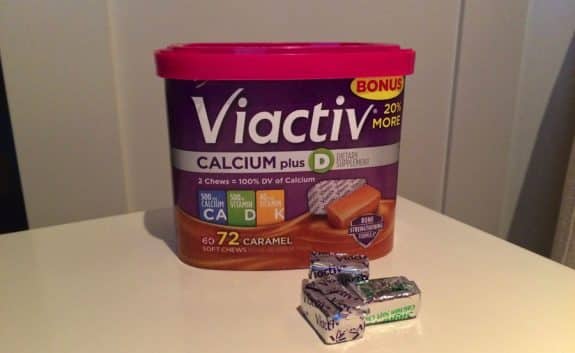 One Viactiv Calcium Soft Chew (500 mg of calcium and 500 IU of Vitamin D) taken twice daily provides 100% of the daily value of calcium for most women plus vitamins D and K.
Growing a healthy baby is a balance of nutrition, exercise and getting enough sleep. Moms-to-be should get 7-9 hours of sleep a night, but will often need to nap a couple times during the day.
The American College of Obstetrics and Gynecology recommends pregnant women do 30 minutes or more of moderate exercise per day on most if not all days of the week unless you have a medical or obstetric complication. This could include swimming, yoga or just simply – walking the dog.
As well as getting enough Vitamin D & K, ensuring your diet has a mix of lean protein, fresh fruits and vegetables and whole grains, will keep you and your baby healthy as they grow.
Moms-to-be need additional vitamins and nutrients to keep them and the baby healthy so make sure you are also getting enough folate, iron, zinc, Vitamin C and magnesium.
Recommended Dietary Allowance
Women 19 – 50 years
Non-pregnant
Pregnant
 Data VIA Health Canada
Folate (mcg/day)
400
600
Iron (mg/day)
18
27
Vitamin A (mcg RAE/day)
700
770
Vitamin C (mg/day)
75
85
Vitamin D (mcg/day)
5
5
Calcium (mg/day)
1000
1000
Zinc (mg/day)
8
11
Vitamin B6 (mg/day)
1.3
1.9
Magnesium (mg/day)
310 (19 – 30 y)
320 (31 – 50 y)
350 (19 – 30 y)
360 (31 – 50 y)
Vitamin B12 (mcg/day)
2.4
2.6
To connect with Viactiv online, please visit their Facebook page or Instagram account.
Please talk with your doctor before taking any supplements.
Viactiv Calcium Soft Chews are available in milk chocolate and caramel flavors at major retailers including CVS, Rite Aid, BJs Wholesale Club, Target, and Walmart, as well as supermarkets nationwide.
Learn more about Viactiv at www.Viactiv.com.
This is a product-provided, sponsored conversation on behalf of Viactiv that contains affiliate links. I received Viactiv products for my own personal use. This post is not intended to address or diagnose any medical conditions. All opinions, text and experiences are my own. These statements have not been evaluated by the Food and Drug Administration. This product is not intended to diagnose, treat, cure or prevent any disease. Please speak with your healthcare provider regarding any medical concerns.
---
[ad]