Little Kallie Bender is doing more than just beating the odds. This tiny miracle, born at 25 weeks' gestation, is thriving and meeting her milestones. She's doing so well, in fact, that she's been released from the hospital and can now join her family at home. As you can guess, everyone – her parents, care team, and community – couldn't be more thrilled with all of the amazing progress she's made.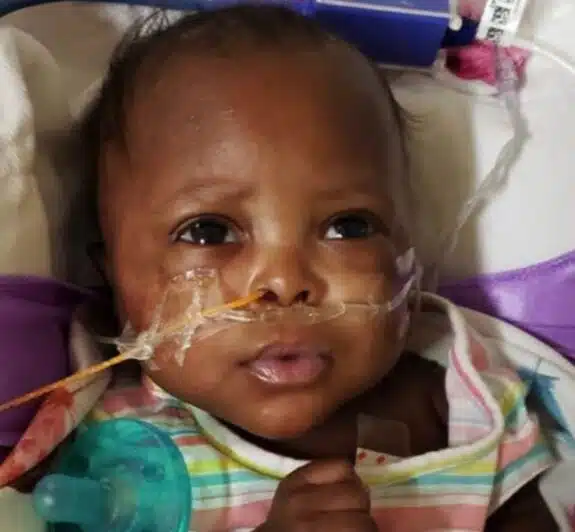 "We're thrilled that after nearly five months, Kallie is going home with her family," said Becky Cole, one of Kallie's primary nurses. "We've loved being able to watch her grow and are excited for her to celebrate many milestones in the future with her parents and brothers."
Her first photos, taken just after her birth on May 24th, show what she looked like at just 13.1 ounces.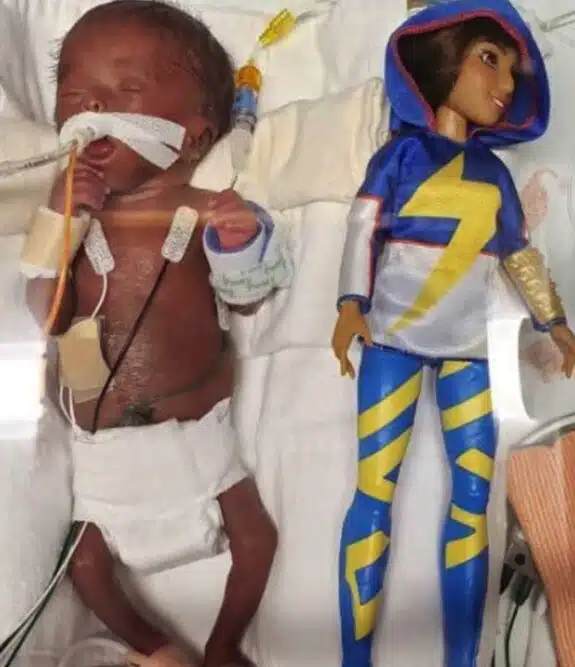 Her tiny body and little limbs more closely resembled a Barbie doll than a child. Now, at five months of age, she's a healthy seven pounds.
Her journey hasn't been easy though.
It all started when her mother, Ebonie Bender, was admitted to the hospital after being told that her baby girl was measuring extremely small during a routine ultrasound. Ebonie already had high blood pressure, but then after four days of bedrest and a series of tests, doctors discovered that there wasn't enough fluid around little Kallie.
To make matters even scarier, the blood flow had reversed from Kallie and was going into the placenta – a sure sign that she wasn't going to make it if she wasn't immediately delivered. So, at 15 weeks premature, doctors delivered Kallie.
Though she survived the birth, things looked pretty grim for a while. Doctors immediately rushed her over to the NICU. It wasn't until later in the day that Ebonie and her husband were able to finally see their baby girl.
"It was a relief to see her even though she was tiny and hooked up to all of these machines," Ebonie told news sources. "But, she was here, and with God on her side, Kallie Skye was ready to fight for her life."
Luckily, she didn't have any brain bleeds or blindness from her extremely premature delivery. She did have a heart problem that is common among micro-preemies, and she received a procedure to repair it. Thankfully, she did quite well through it and recovered quickly. She also had a highly skilled team of doctors and nurses working to ensure she received the very best care possible.
Sure enough, she began to gain both weight and strength, and slowly but surely, she started meeting those important milestones.
"Over the last few months, it was amazing to watch her grow and see how she would have been developing inside the womb," said Bender. "I look at her pictures all the time because so much has changed in her features, size, and personality."
Those fond memories, bittersweet as they might be, will go along with little Kallie as she continues her journey. And hopefully, she'll be able to come off the oxygen and feeding tube soon. In the meantime, her parents and siblings are simply happy to have her home.
"We are looking forward to having more independence and creating new memories as a family of five," Ebonie said.