Angelina Jolie & Brad Pitt stepped out in New York City last night to take their youngest, twins Knox and Vivienne, out to Lee's Art Shop.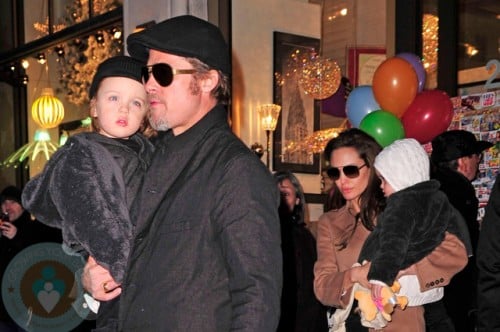 The foursome made an adorable family picture as they left the store. This week, Angelina Jolie is busy promoting her next project, The Tourist. She spent a good part of early this year filming in Venice alongside Johnny Depp.
She wasn't alone though! The kids were along for the trip. During a recent interview Angelina said they remind you what's important in life.
"I enjoy the work more now because I enjoy life more. When you have children the whole world shifts for you. You have these little people that make you laugh and remind you every day of what is important, and you get to be their parent and that's the most important thing you'll ever be. Everything else comes from that."
The Tourist hits theaters this Friday. This family always catches attention when they are out in public, especially when they have the twins in tow. It's hard to believe they are almost three.
Related Articles: